Social Stories
11.15.2015
As of March 27, 2014, the Centers for Disease Control and Prevention (CDC) released new data on the prevalence of autism in the United States. This surveillance study identified 1 in 68 children (1 in 42 boys and 1 in 189 girls) as having autism spectrum disorder (ASD). As the number of children diagnosed with autism has increased, Occupational Therapists have searched for interventions to help children with this diagnosis.
One useful intervention is the use of social stories to help children with the advancement of social and functional skills. These simple and short stories are written to prompt a child to perform in a socially correct manner. The story typically describes the social situation and the appropriate behavior that is expected of the child. The stories are to be read before the child engages in the event or activity that has created performance and/or behavioral challenges. Social stories are often used repeatedly and in different settings to help a child generalize the positive effects.
Tools to Grow is pleased to present a guest blog by Charlotte Olson, an author and mother of a child with an autistic spectrum disorder. Charlotte has written a series known as Suzie Books based on her experiences and hurdles with her own children. Suzie Books can be used as a learning and discussion aid to help other children cope with new situations found in most families.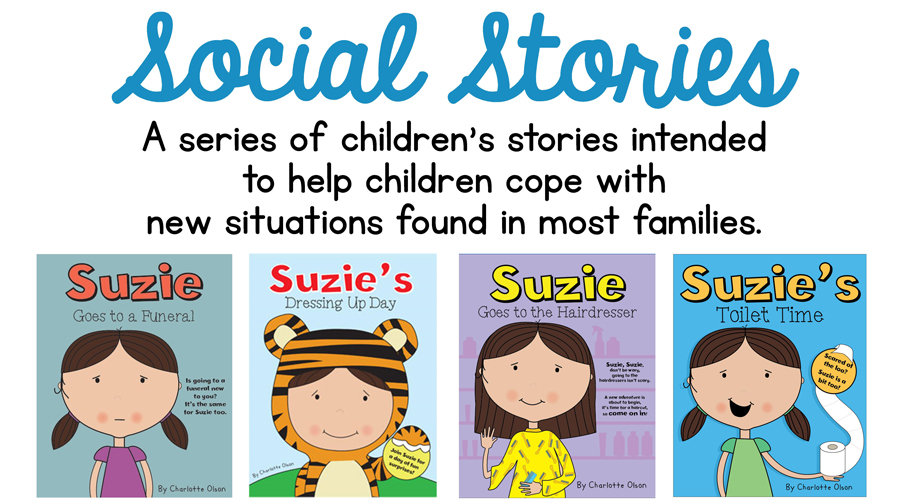 Suzie Books are a series of children's stories that can be used as a visual aid or as a social story to help young children cope with new situations which are found in many families.
Each story is written simply but explaining just what the child may expect within that certain situation with the idea of easing any anxieties and helping process the whole experience. The illustrations are simple and bright which makes them engaging and pleasing to the child's eye.
There are five titles to date with a sixth title coming soon. I chose these particular titles because these experiences were quite difficult for us and they are quite common topics within Autism families.
Suzie goes to the Hairdresser....Haircuts were horrendous for William, for a very, very long time. For many years we didn't know he was on the spectrum and couldn't understand the screaming, crying, complete meltdowns.
Suzie's toilet Time...... William had toileting issues for again, a very, very, long time so it made sense to write about the bathroom and how it can be a safe and relaxing place to go.
Suzie goes to a Funeral.... We had a funeral to attend three years ago and I was quite keen to see how William would cope, he didn't understand the whole emotional side to the funeral even though he was aware of the relative dying, so again I came away thinking this could be a topic to delicately approach.
Suzie goes on an Aeroplane....It was probably more daunting to us taking him on an Aeroplane. I do remember it was quite stressful at time and keeping him occupied for a long time was probably the hardest part.
Suzie's Dressing Up Day.... Was really a useful book to show changing outfits and teaching to tidy up afterward, that again was quite an issue at times for us.
Suzie's New Food Day....The next title to be illustrated and published. This is written with the idea that a child can try new foods. For again, a very, very long time, William lived on Chicken Nuggets and nothing else, I beat myself up for a long time about his eating habits but I wish I hadn't and I encourage others to do the same (even though it is easier said than done! ).
My motto is, " If Suzie can then you can too! "
I do hope that you enjoy reading them as much as I have enjoyed writing them and Suzie becomes part of your family too!
Charlotte
Visit our website at http://www.suziebooks.co.uk
Some Suzie Books are now available on Amazon for download to your Kindle.
Related Topics: Early Intervention , Self-Help/Life Skills, Sensory Processing/Self-Regulation, Social Skills , Tools to Grow at Home