Sensory Coloring Fun!
06.29.2014
Despite recommendations from therapists for children to participate in daily outdoor play, some children may continue to miss out on the sensory and motor experiences such play delivers. Outdoor play offers sights, sounds, textures, smells, and movement opportunities that are important for healthy development. The decline in time spent outdoors has been attributed to many reasons including the following: busy parents with less time to supervise outdoor play, unsafe neighborhoods for outdoor play, or personal habits that include prolonged viewing of television and/or video games.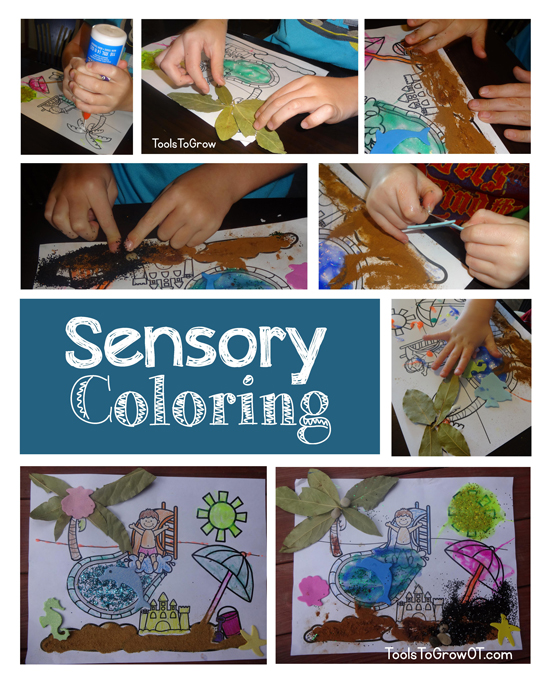 We have had excellent results with our resource known as Sensory Art. Using the summer themed coloring picture sheets, the child will begin by using traditional tools such as crayons to color as much or as little of the sheet as he or she wishes. The next step is to "decorate" the picture using glue and medium that offers tactile and olfactory experiences. Occupational Therapists have great imaginations; use yours when preparing options for the children to use. Here are some examples and possible uses:
Fresh herbs = tree leaves
Pipe cleaners = Caterpillar or plant stem
Stickers = fish, sea shells
Not only will children experience a great variety of sights, scents, and textures to manipulate, but there are also many opportunities for developing skills in the area of fine motor, bilateral coordination, and praxis. The child will be challenged in the area of ideation (what to do with all of these things?) and execution (how to manipulate to form the product).
Whether you need to capture the attention of one child or a group, this resource may work for you during Occupational Therapy treatment. Using it as a home program to extend the benefits of direct treatment is another possible use. We hope you love this fun resource as much as we and our kiddos do! Have a great time!
You can find our Sensory Art Resources Here.
Related Topics: Fine Motor Skills, Sensory Art, Sensory Processing/Self-Regulation, Summer, Visual Motor Integration