Play Ball! Fine Motor Game
09.28.2014
Major League Baseball Playoffs will soon be starting and we have a fun fine motor baseball game that everyone will love! This baseball themed table top/floor game is designed to promote development of visual perceptual, visual motor integration, social, and fine motor skills.
Students will enjoy the strategy and chance to be a home run hero!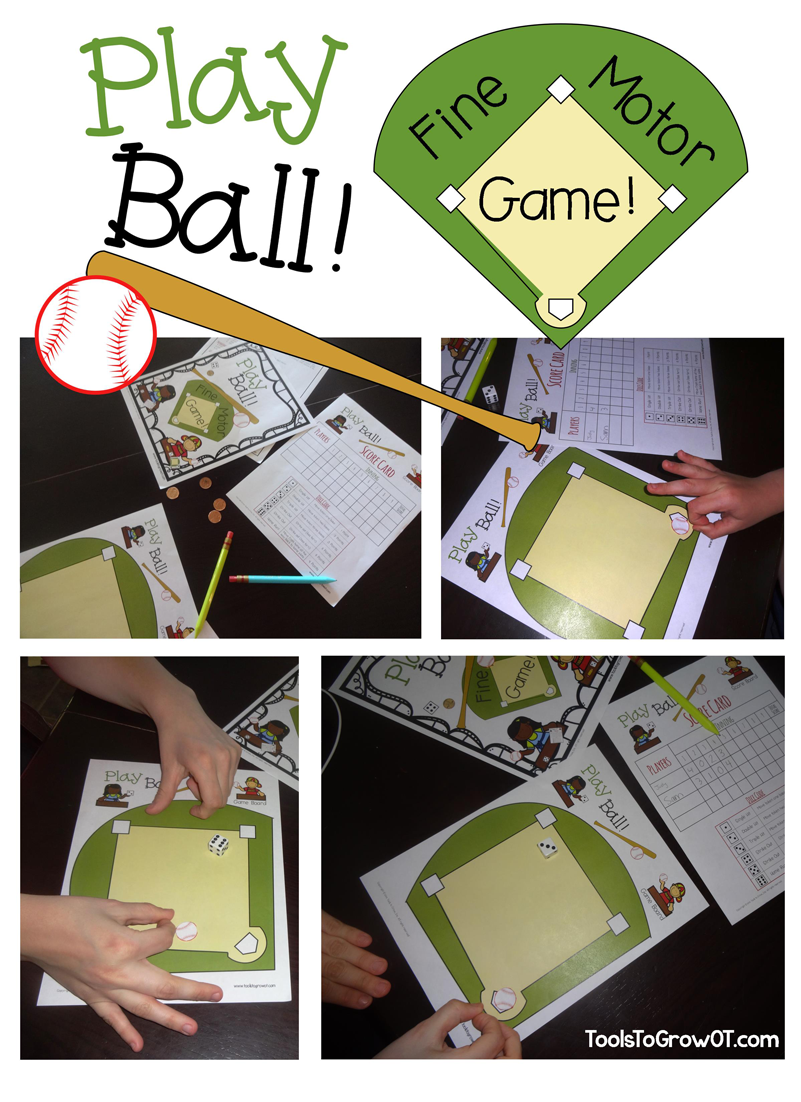 Play Ball! Fine Motor Game is designed to promote the following essential skills:
Finger Isolation- developed through the skilled use of the index finger to "hit the baseball forward". The "power side" of the hand is encouraged to be stable and inactive. This foundation skill is necessary for performing functional tasks such as using a pencil, typing on a keyboard, playing musical instruments, and manipulating clothing fasteners.
Eye-Hand Coordination- developed as the child uses his/her eyes and hand to maneuver the game token around the bases. Children will also be required to use vision/visual perception to purposefully direct hand and finger movement for skilled scissor use. Intact eye-hand coordination is an important foundation when required to write, color, draw, and use small tools. It is also important for success in sports/athletics.
Social Skills- turn taking, sharing materials, and following directions.
Preparation & Assembly
Play Ball! Fine Motor Game is a print and go resource! Included in our resource are the baseball diamond (game board), score card, baseball token images, and directions. Also required are scissors and tape (for preparation of game tokens), one penny for each player, and a dice.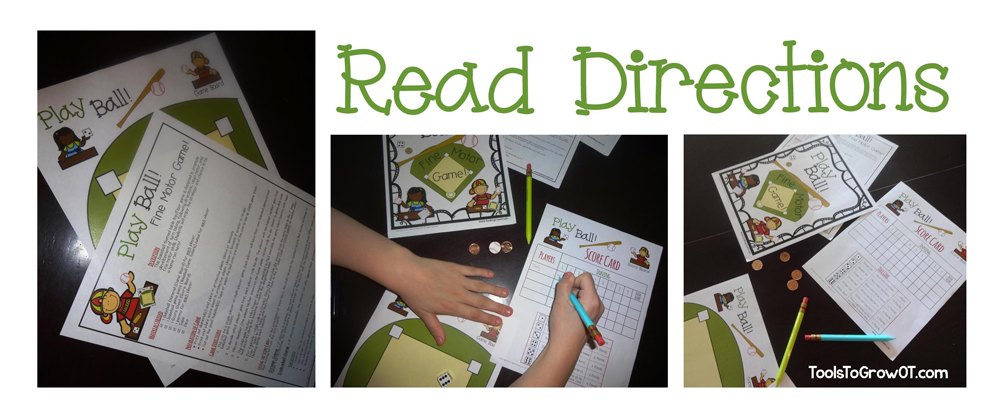 Preparation is easy! Simply read the Directions/Game Rules included in the PDF, and then assemble game tokens by cutting out and taping the baseball image (included in resource) to a penny.

Once the game directions/rules are read, the score board is filled in with player's names, and the game tokens are assembled, it is time to PLAY BALL! The child uses his/her index finger (as much as possible) to flick and slide the game token (penny with baseball image attached) along the baseline to reach the designated base. Even if he/she "over-runs" the bases, the child should eventually flick until he/she reaches each base.
Variations of Play Ball! Fine Motor Game Include:
Children may be seated at a table or prone to play
Use a larger coin
May substitute with different/multiple fingers or tool to slide penny
Reduce the number of innings, for time restrictions
Tools to Grow's Play Ball! Fine Motor Game can be found here: Play Ball! Fine Motor Game
Another fun Baseball activity is Baseball Lacing! Print our FREE Baseball Lacing Card. This lacing task requires a child to pass a string or similar cord through eyelet holes following a specified pattern to form the stitches on the baseball (up through one hole and down through the next hole). This task encourages fine motor strengthening (hole punch), hand-eye coordination, bilateral integration, motor planning, fine motor dexterity.
Play Ball! Fine Motor Game is sure to be a home run! We hope that this gets everyone in the Baseball Playoff Spirit, Let's Go … Play Ball!
Play Ball! Fine Motor Game can be found here: Play Ball! Fine Motor Game
FREE Baseball Lacing Card can be found here: Baseball Lacing Card
Related Topics: Fine Motor Games , Fine Motor Skills, Praxis/Motor Planning , Visual Motor Integration, Visual Perceptual Skills