Hanukkah Activities, Ideas, and Crafts
11.29.2014
Hanukkah is almost here, a time to gather with friends and family, a time for the celebration of lights. It is a time to share food, music, blessings, and perhaps small gifts with children. It is an opportunity for children to learn about charity and traditions that are passed on through the ages.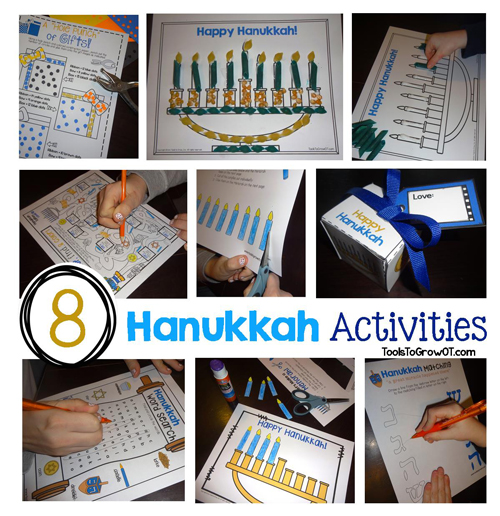 Tools to Grow is pleased to offer some great Hanukkah themed activities and ideas to incorporate into your therapy sessions, home program, school/classroom, or to share with others in your community. We have separated our Hanukkah themed resources into three categories: Sensory, Visual Perceptual, and Fine Motor Skills.
Sensory Coloring - Let's Make a Menorah!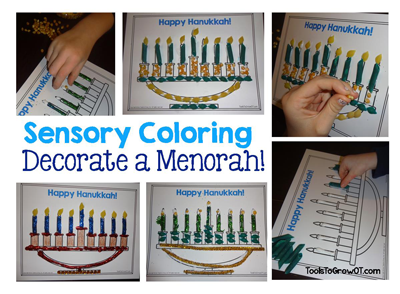 Sensory coloring is a fun activity that kids of all ages love to do! Using the FREE Menorah coloring page (found here), the child begins by using traditional tools such as markers or crayons to color as much or as little as they wish. The next step is to "decorate" the Menorah using glue and medium that offer tactile and olfactory experiences. Some examples and possible uses include:
Colored Sand (candles)
Yellow Tissue Paper (flame)
Glitter Glue
Colored/Dyed Rice (candles/flame)
Colored/Dyed Dried Pasta (Candles)
Dried Pasta
Corn Kernels
Beads
Pipe Cleaners
Dry Beans
Visual Perceptual Hanukkah Themed Resources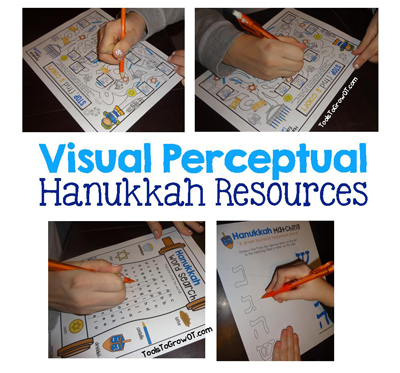 Here are four Visual Perceptual Activities with a Hanukkah theme.
1. Stop, Find, & Color: Hanukkah Edition Level One and Level Two - The child must follow the maze path and complete the "Stop, Find, & Color" boxes along the way. You must complete all stops to finish the maze.
2. Word Search - This is a great way to address visual scanning and visual memory.
3. Hebrew Letter Matching - This activity targets visual closure and matching skills. A dreidel is a spinning top game, which is marked with four Hebrew letters: Nun, Gimel, Hei, and Shin. These letters stand for the phrase "a great miracle happened there." The letters also stand for Yiddish words that are the rules of the dreidel game. In this activity the child must draw a line from the Hebrew letter on the left to the matching filled in letter on the right.
Fine Motor Hanukkah Themed Resources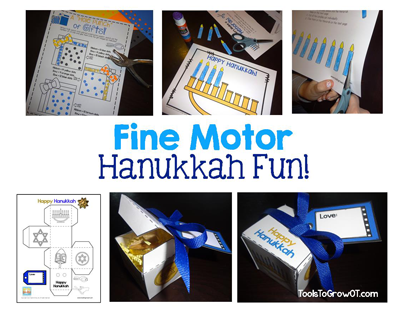 The last three Hanukkah activities target fine motor skills. These included:
1. Hole Punch Gifts and Menorah - Using a hole punch and colored construction paper, punch out the number of circles and glue them onto the images as indicated. Includes: A "Hole Punch" of Gifts and Decorate the Menorah!
2. Color, Cut, and Glue a Menorah - This is a great three step motor task activity. First color the candles and the Menorah base, next cut all the candles out individually, and finally glue them on the Menorah.
3. Decorate a Gift Box & Tie a Bow - This activity allows the child to color a gift box, cut and fold, and then assemble. Placing a ribbon and tying the bow is a great way to finish this gift box. Child can place a small gift (we used chocolates) inside to give to a friend or family member.
We hope that these activities, crafts, and printable resources offer an opportunity to celebrate or learn more about Hanukkah with the special children in your life.
Wishing you all a Happy Hanukkah!
You can find our entire section of these Hanukkah themed resources here.
Christmas Holiday Resources can be found here.
Related Topics: Christmas/Holidays, Fine Motor Skills, Hanukkah, Visual Perceptual Skills