Executive Functions - The Holidays Really Test These Skills
12.01.2014
When life gets busy, such as during the Holiday season, a person's skills in the area of executive functioning can really be tested. Executive Function is a term used to describe the many tasks one's brain performs that are necessary to think, act, and solve problems.
Executive functioning includes tasks that help us learn new information, remember and retrieve information we've learned in the past, and use this information to solve problems of everyday life.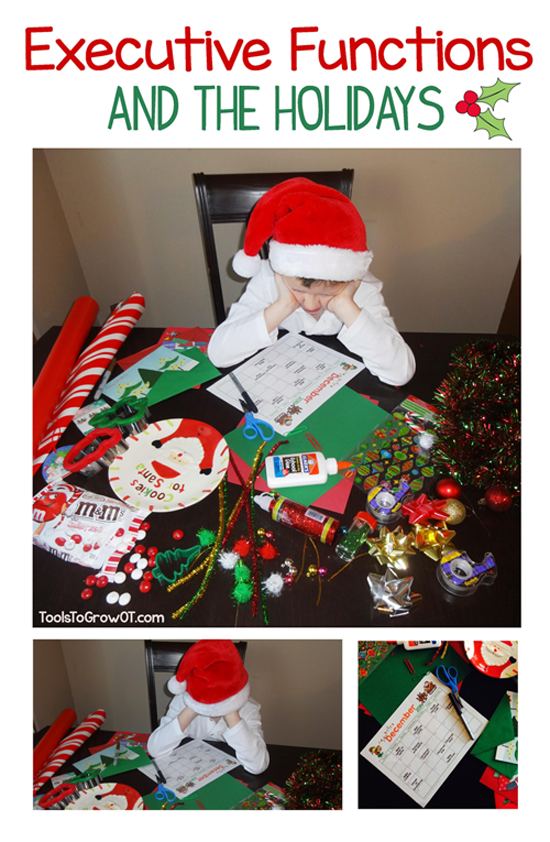 As an adult, there can be much more information to recall during the Holidays such as...
"What day was that party?" There can be many more activities to plan such as... "When will I take the children to grandma's to make cookies?" Regarding working memory... "What was that address I just looked up to write on the greeting card?" We assume that department stores would like us to be as productive as possible while we are shopping, but with all the decorations, music, noise, people, and crowded shelves, sustaining optimal attention to "cross off that list" is really challenging. Even the desirable task of sharing good will with others requires time management skills.
These examples highlight the challenge some adults may face when coping with one of the happiest, yet stressful times of the year. Prioritizing, planning, organizing, recording, and using time efficiently can help adults focus on the joy, rather than the "hustle and bustle" of the season.
But... what if a person has difficulty with executive functions? What strategies can help facilitate better outcomes? What about children with deficits in executive functioning?
We understand that many students struggle with:
Organizing materials- keeping materials & objects neat, orderly, and accessible
Setting goals- determining what needs to be accomplished
Recording assignments- keeping track of what needs to be done
Estimating time- judging the time required to complete assignments/tasks
Prioritizing & Sequencing- what to do and in what order
Getting started- avoiding procrastination
Quick recall- of the information needed to accomplish the task
Staying focused until completion- shifting focus when needed
Emotional control & Accountability
Tools to Grow is pleased to offer a variety of resources that target the needs of those students that would benefit from intervention in many areas of executive functioning. Our exclusive Holiday themed executive functioning resources include: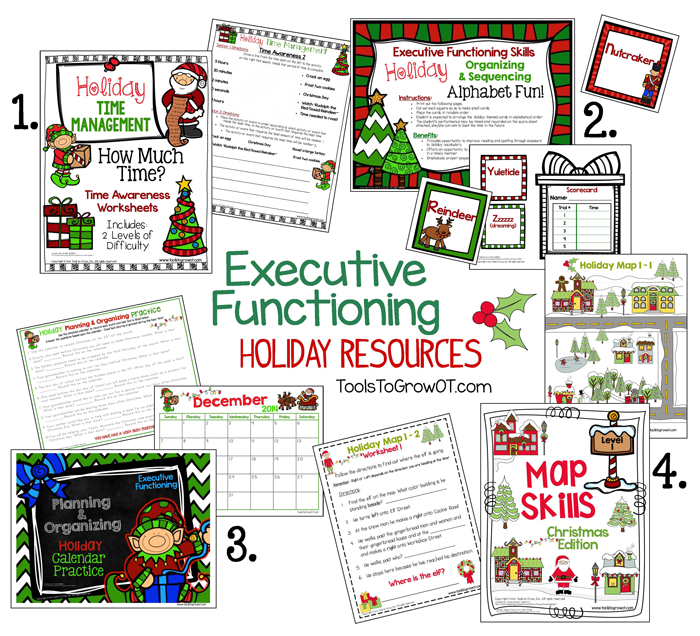 1. Holiday Time Management - How Much Time?: This is a FREE resource that addresses time management in order to improve a child's ability to estimate time. The child must connect the time span to the holiday activity or event. Next, the child must place in order from the activity or event that takes the least amount of time to complete, to the activity or event that takes the longest amount of time.
2. Holiday Organizing and Sequencing - Alphabet Fun!: This is a fun game that emphasizes organizing and proper sequencing of Christmas/Holiday themed words in alphabetical order. Using the attached cards, the child must arrange in alphabetical A through Z order. The performance may be timed and recorded on the score card included. He/She can aim to beat the time in future attempts. This activity provides opportunity to improve reading and spelling through exposure to Holiday vocabulary. It also offers opportunity to physically manage and organize many papers in a timely manner.
3. Planning and Organizing - Holiday Calendar Practice: What a busy month December is! This executive functioning resource addresses planning and organizing various tasks listed to complete in the month of December. The child must answer questions based upon the December calendar included.
4. Map Skills - Christmas Edition: This is a 16 page packet that allows for the opportunity to analyze and view Christmas/Holiday Themed winter maps. There are three levels of Christmas themed maps that include various holiday themed locations, such as a skating rink, gingerbread house, Santa's workshop, Frosty's house, and more! By using these resources, it will allow for the development of directionality, sequencing, spatial terms, and orientation skills. The child must follow written directions to find various holiday themed locations and reference the maps to answer questions.
We hope you will find these resources to be practical, functional, and meaningful for home and school settings. Let's have holiday fun while giving children the tools to grow and function in a manner consistent with their age.
You can find all our Holiday/Christmas Themed Executive Functioning Resources Here.
Find all our other Executive Functioning Resources Here. By clicking on the "category" menu you can sort and select resources based upon their associated category. These include: Map Skills, Time Management, Planning, Ruler Skills, Organization, Working Memory, and Educational Resources.
Related Topics: Christmas/Holidays, Executive Functioning Skills