Valentines Fine Motor Activities & Games
02.02.2015
Valentine's Day is quickly approaching and we have some fun fine motor activities and games for you! Fine Motor Skills involve the use of precise and coordinated movements of the fingers to perform hand use tasks. Fine motor skills are necessary for completing daily tasks such as dressing (using buttons/zippers), feeding (using mealtime utensils), being a student (using a pencil, keyboard, or scissors), and leisure/play activities (drawing, playing many musical instruments).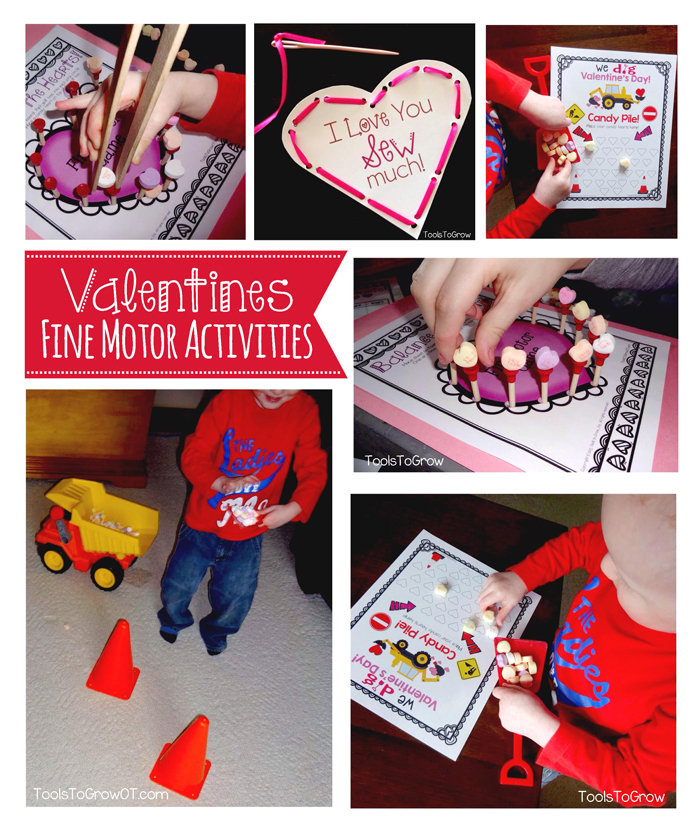 Valentine's Day Fine Motor activities and games are a great way to encourage fine motor skill development! The following activities are great for use in groups or individually. Through the use of these Valentine's Day Fine Motor games and activities, the following will be encouraged:
Fine Motor Coordination
Fine Motor Strengthening
Bilateral Coordination
Lacing
Eye-Hand Coordination
Finger Isolation
Social Skills
Fine Motor Game - Balance the Hearts! Candy Game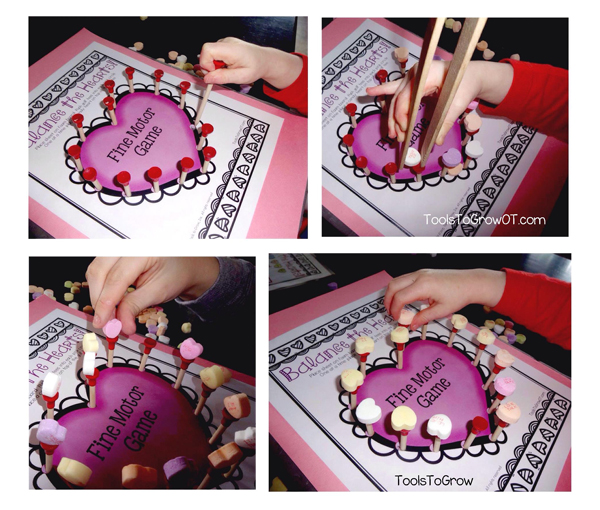 Materials:
14 Golf Tees
14 Candy Conversation Hearts
Foam Board
Stop Watch
Game Board & Card (included in PDF)
How to Play:
1. Assemble game by placing Game Board on a foam board. Push a golf tee into each pink circle as indicated on the Game Board.
2. Place Candy Conversation hearts in a pile beside Game Board.
3. Start timer.
4. As fast as you can, balance a candy heart one at a time on top of golf tee.
5. Once all 14 candy hearts are placed on the golf tees, the timer is stopped.
6. The time to place all the hearts is recorded in the score card.
Variations:
Child can use fingertips or tongs to place the candy hearts on the golf tees.
Hearts can be placed: 1. Flat (with words showing) or 2. Standing up on the side.
Fine Motor Game - We DIG Valentine's Day!
Materials:
Spinner & Candy Pile Sheet (included in PDF)
Candy Conversation Hearts
Plastic Shovel
Plastic Toy Pylons or Obstacle Course Equipment/Materials
Preparation of Game:
1. Place candy hearts in a container/plate (we placed them in a toy dump truck!). Place shovel in candy and the spinner next to candy set up.
2. Create an obstacle course. You could place pylons or other equipment on the floor to create a path from the candy to the "Candy Pile."
3. Place "Candy Pile" Sheet a distance away from the candy (determined by adult based on child).
Game Directions:
1. Child spins (flicks) the wheel to find out how many hearts to collect.
2. They then use a shovel to "dig" up the number of hearts that they spun.
4. They transport these hearts using only one hand holding onto the shovel to their "Candy Pile." They must navigate around the obstacle course as indicated by the adult.
5. Child then places their candy hearts on the "Candy Pile" and returns to the start to spin and collect more hearts.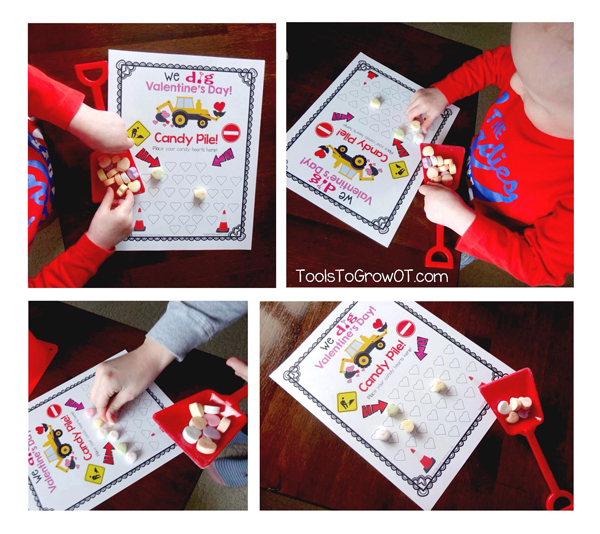 6. Game ends when the child has filled up their "Candy Pile" sheet.
I Love You SEW Much! Fine Motor Sewing Activity
Materials:
1 Heart template & Post Card (included in PDF)
1/8 inch Hole Punch
Tape
Scissors
Needle
Yarn or Ribbon (1/8 inch/3mm)
How to Assemble:
1. Print and cut out heart template on heavy cardstock paper.
2. Using a small hole punch, punch each dot around the heart. You can also poke each hole with needle if you do not have a small hole punch.
3. Thread a needle with a piece of ribbon or yarn. Using the needle, sew around the heart.
4. Color postcard with markers, crayons, glitter glue, or other mediums.
5. Tape assembled heart to the middle of the postcard.
6. Child can give this hand made Valentine's Day Card to their Valentine!
You can find all these and more Fine Motor Valentines Activities & Games by Clicking Here. We hope that you have a fun filled Valentine's Day!
Related Topics: Activities/Crafts , Fine Motor Games , Fine Motor Skills, Valentine's Day