St. Patrick's Day Activities
02.28.2015
We are excited to share with you some St. Patrick's Day activities and fine motor fun! These activities are associated with our high quality printable resources. All of these resources can be found here in our Holidays/Seasons/Themes section: St. Patrick's Day.
SENSORY COLORING RAINBOW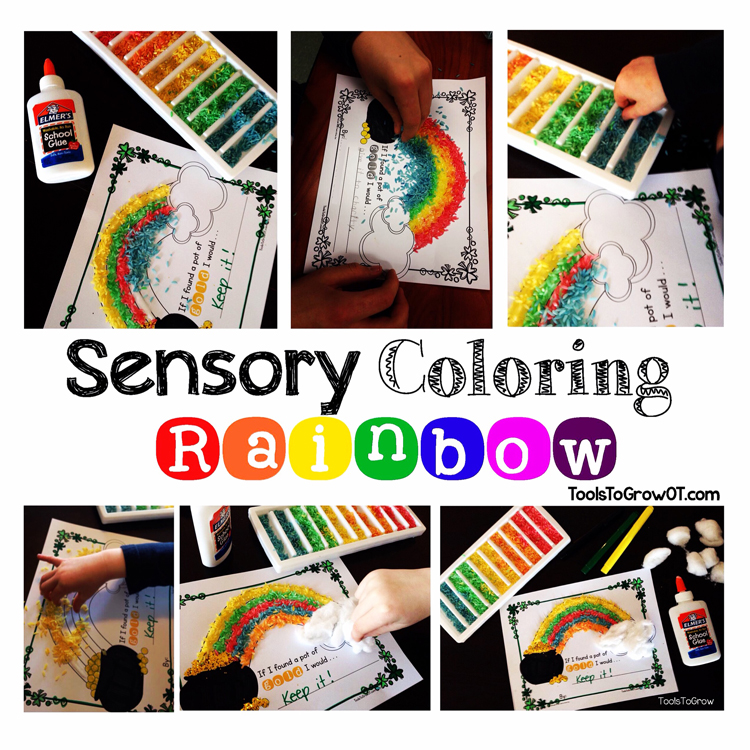 To Make Colored Rice:
Pour one cup of rice into a ziplock bag
Add 4 drops of food coloring and 4 squirts of hand sanitizer
Shake the bag to mix the color into the rice
Place rice on a baking sheet to dry for a day
Instructions:
1. Print out Sensory Coloring Rainbow - FREE Printable coloring page on cardstock or glue to heavy construction paper.
2. Begin by using traditional tools such as crayons or markers to color the pot and gold coins.
3. Child completes writing prompt "If I found a pot of GOLD I would … "
4. The next step is to "decorate" the rainbow using glue and colored rice. Place rice in an ice cube tray.
5. Squeeze white glue on the first arc of the rainbow.
6. Using fingertips, sprinkle one color of rice into the glue.
7. Shake off excess rice into the garbage or onto a tray.
8. Repeat steps 5 - 7 for the remaining arcs and colors.
9. Squeeze white glue on the clouds.
10. Using cotton balls pull small pieces and press into glue.
11. Let finished picture dry before hanging up to display.
Read about our Sensory Coloring - Summer Edition here.
POT OF GOLD NUMBERS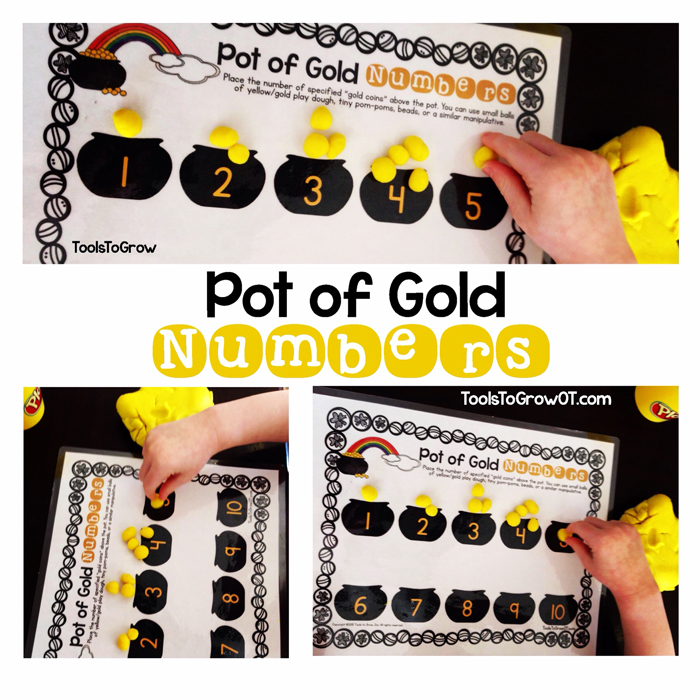 Instructions:
1. Print this Fine Motor (Dough) Mat and laminate for protection/durability.
2. Place the number of specified "gold coins" above the pot. You can use small balls of yellow/gold play dough, tiny pom-poms, beads, or a similar manipulative.
Variation: Have child use small tongs, tweezers, or a spoon to grasp and release the "coins".
LEPRECHAUN BRAIDING FUN!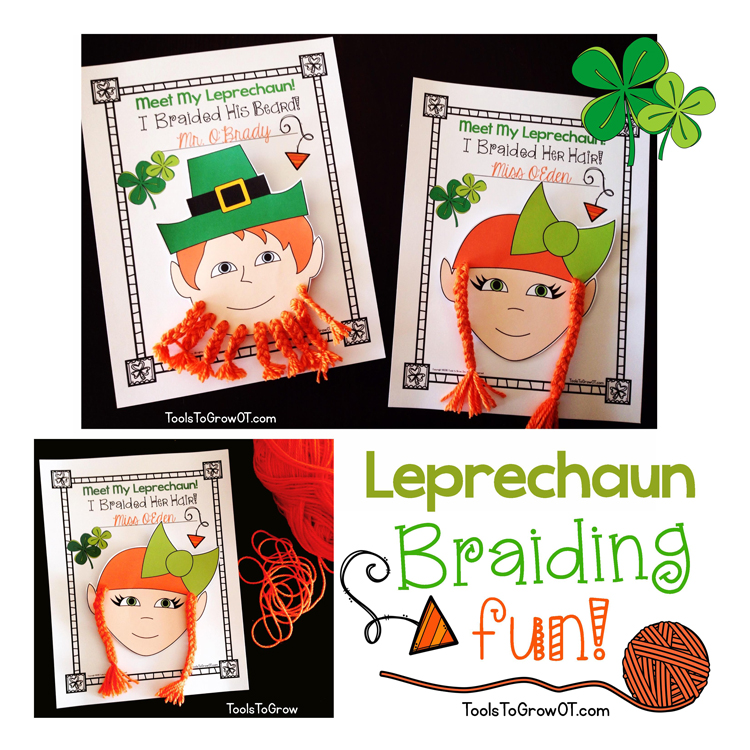 Materials Needed:
One Leprechaun head (Boy & Girl Leprechaun Versions included in Printable)
One "Meet my Leprechaun" Page (Included in Printable)
Assembly Instructions:
1. Color Leprechaun head.
2. Cut out Leprechaun head.
3. Using a hole punch, punch holes as indicated by the circle dots. This will be for the Leprechaun's beard (Boy Version) or Pony Tails (Girl Version).
4. Cut pieces of yarn equal lengths (3 pieces per hole). Tip: Use more yarn for a "thicker" look.
5. Thread pieces together through each hole.
6. Tape yarn at the back of the head.
7. Glue or tape leprechaun head to "Meet my Leprechaun" paper.
8. Braid each strand.
9. Give your leprechaun a name and write it at the top of the page.
FINE MOTOR RAINBOW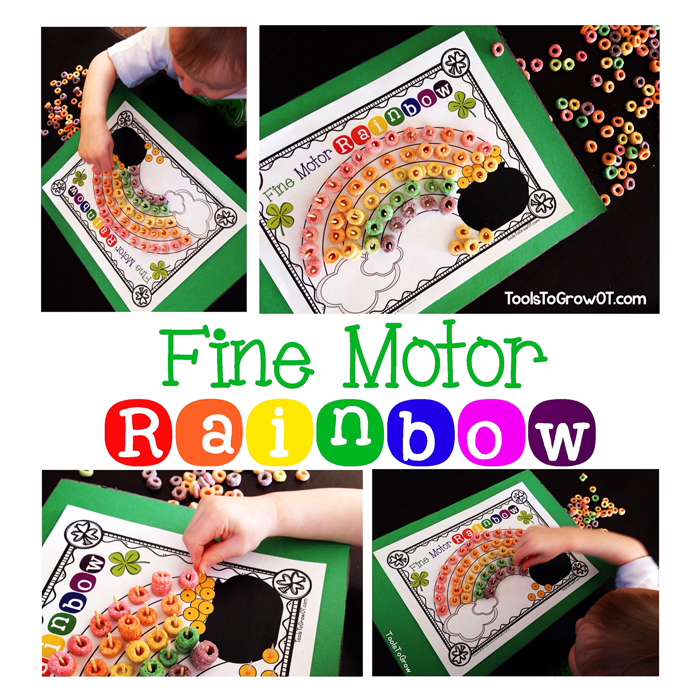 Instructions:
1. Place on a foam board, cork board, or cardboard box.
2. Push toothpicks into each dot on the arcs of the rainbow & gold coins as indicated.
3. Child places colored cereal, pony beads, or perler beads on top of the toothpicks.
4. Use different colors to make a rainbow.
5. Use yellow to make the gold coins.
You can find all these St. Patrick's Day Printable Activities and More Ideas Here.
We hope you have a fun time, especially because everyone is Irish on St. Patrick's Day!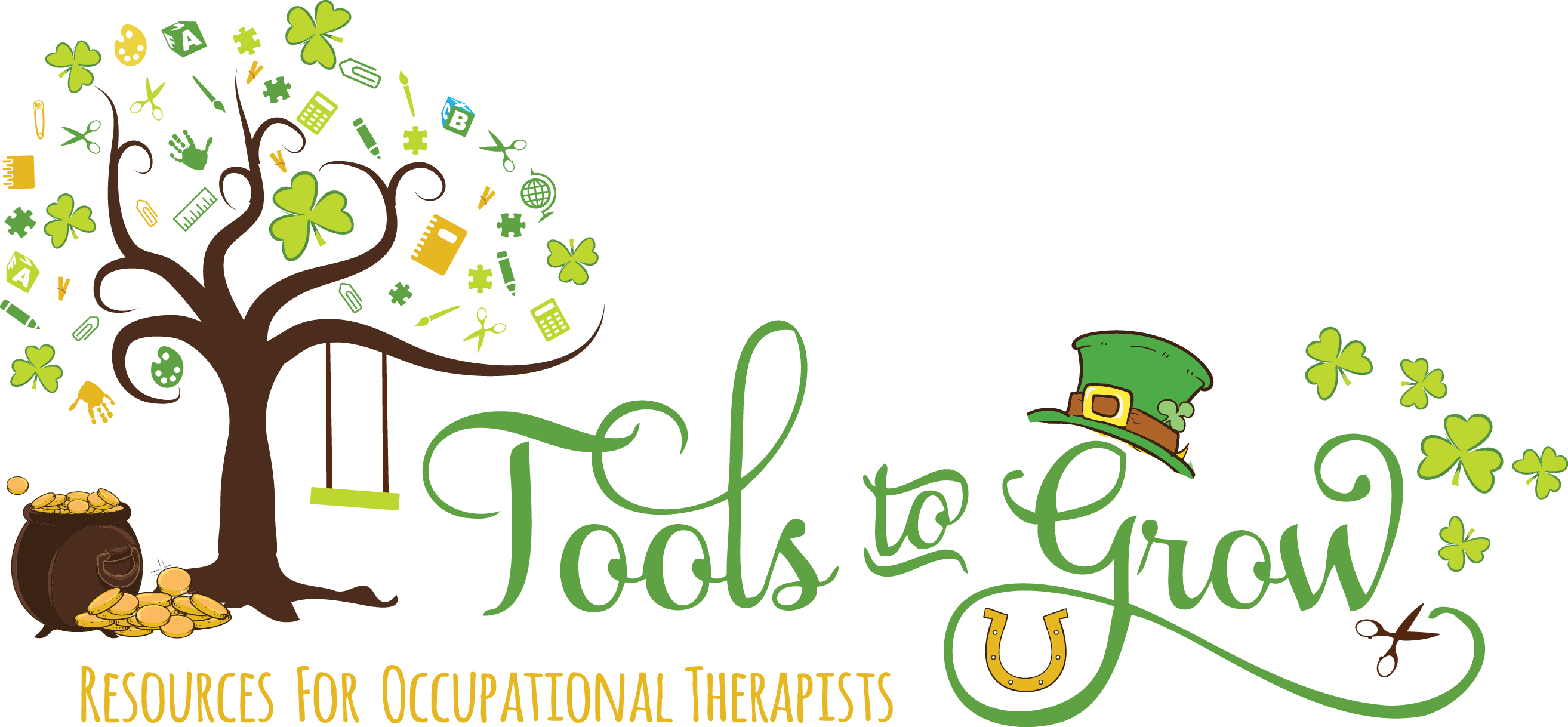 Related Topics: Activities/Crafts , Bilateral Coordination , Fine Motor Skills, Free Resources , St. Patrick's Day