StepByStep iPad App Review
03.28.2015
As school based Occupational Therapists, we have numerous students on our caseload with sequencing and problem solving difficulties. When we were contacted by SOAR Therapy, LLC to review a new and innovative sequencing iPad App, we were excited to try it! Sequencing involves putting movements, sights, sounds, thoughts, objects, numbers or letters in consecutive order according to time and space. This important executive function is essential for independence.
The StepByStep iPad App was developed by an Occupational Therapist with the goal of assessing and improving sequencing and problem solving skills in individuals of ALL ages with diagnoses such as: Stroke, Alzheimer's, Dementia, Parkinson's, Traumatic Brain Injury, Autism, Developmental Challenges, and Learning Disabilities.
Tools to Grow reviewed StepByStep Pro Version 1.3 iPad App. This app is only compatible with an iPad and requires iOS 7.0 or later. This app is free to use, however the free version only includes four sequences (2 kids and 2 adults). You can purchase all 52 sequences (24 sequences for kids and 28 adult sequences) for just $14.99. Great features of this App include the history feature, which allows therapists, teachers, and parents to monitor the improvement of their users over time. Another great feature is the ability to add sub-users for free, which lets you have multiple users within the app. The history feature is well organized, and will track each sub-user's progress separately. The updated version allows the users to email history and results.
Downloading this app was quick and easy. To start, we were required to create a single account. There is an option to then add or remove an unlimited number of user profiles for free. This is a great option for use in a group therapy setting, as it is easy to switch between sub-users.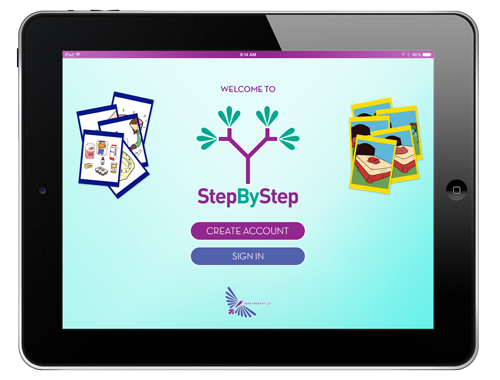 Once signed in, you will select either kids or adults. Since we work with school based children, we used the kids category. This brought us to a screen with 10 different sequences. You can then swipe over to two more pages of sequences; a total of 24 different sequences to choose from. There is a great variety of functional tasks from which to choose. Brushing your teeth, making a sandwich, doing laundry, mailing a letter, and getting dressed are a few. Each task varied in the number of steps required to execute that task. In the kids category, the easiest task included four steps, whereas the most challenging task involved seven steps. Although the tasks are not organized by difficulty, they are organized and clear, listing the name and number of steps to complete for each.
To use this app, the user is required to select a sequence. The child uses his/her finger to drag each step/picture to arrange into the correct order from left to right and top to bottom on the screen. This dragging function was relatively easy for our students, even when they swiped off the screen. The images were clear and visually appealing, which was great for our students. The white background allowed the focus to be on each image.
In a few of the sequences, the order of some of the steps seemed to be slightly subjective and unclear. For instance, when completing the sequence "Doing Laundry", some students would put the clothes in first and then add the detergent, and others did the opposite. It is our advice that the therapist is familiar with the correct order and sequence of each task before using in therapy sessions.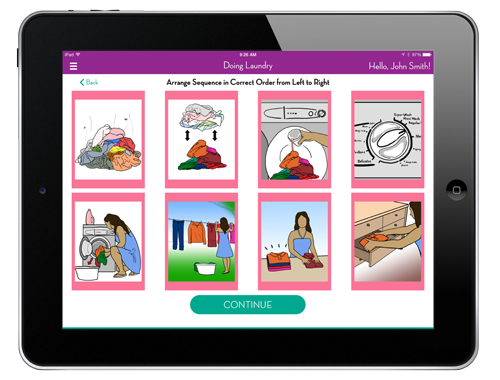 Once the student sequenced the items in the order they thought was correct, they clicked "continue" button. A small screen appeared with the results.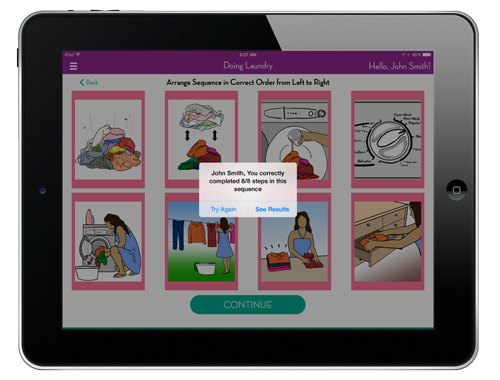 This screen tells the user the results and if any steps were incorrect. This screen is functional and does a good job to prompt the user to "Try Again" or "See Results." However, for some of our students, we found this screen was too small for them to read. When a student correctly ordered all of the steps, we believe our students would have responded more positively if they were rewarded with something more animated and meaningful (noise, sounds, clapping). If the user wants to re-try the sequence over again, they click "Try Again". This brings them back to the steps. The user does not know which steps were incorrect, just the number of steps that were wrong. It would be a great feature if they could see the incorrect steps and then click "Try Again" from this screen. If the user clicks "See Results" they can see which steps were incorrect as they are shaded grey and not in color. The user can then try again, but are required to restart from the category screen. Once the user clicks "See Results" this screen appears.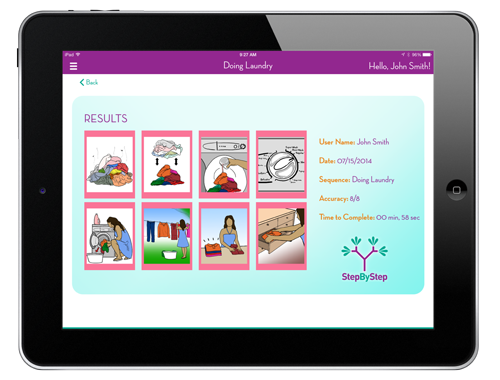 The results screen is great! It is clear and well laid out. If all steps are sequenced correctly, the pictures are all colored. The App keeps track of the date, sequence activity completed, accuracy, and time to complete. This is convenient for tracking and monitoring progress over time. Results and history can be emailed which is a helpful feature!
Overall we feel this is a valuable and convenient tool that can be used in school based, clinic, or home based Occupational Therapy settings to assist children in developing problem solving and sequencing skills. By providing over 50 sequences of ADLs, IADLs, and Transfers, StepByStep iPad App is a unique and fun App to be used in combination with other intervention and hands on activities in therapy.
We are thankful for the opportunity to review this App, and look forward to using it again in the future with our students. Our students loved using this App and were motivated to work together, problem solve, take turns, and complete each sequence. Be sure to check it out today!
Website: www.soar-therapy.com
App Store: StepByStep Pro from SOAR Therapy
Facebook: www.facebook.com/soartherapy
Related Topics: App Review, Sequencing Skills