Thanksgiving Turkey Dough Craft
11.04.2015
We have a great tactile recipe that will allow a child the opportunity to explore and create a Thanksgiving turkey with their fingers and hands. This Thanksgiving Turkey Dough activity provides an excellent sensory experience! Other benefits include:
Tactile- a variety of touch experiences
Proprioception- stretch, pull, pound & squeeze
Following verbal & written directions
Tool use: spoons, cups, pouring, mixing
Praxis: The opportunity to develop praxis by creating a three dimensional Thanksgiving turkey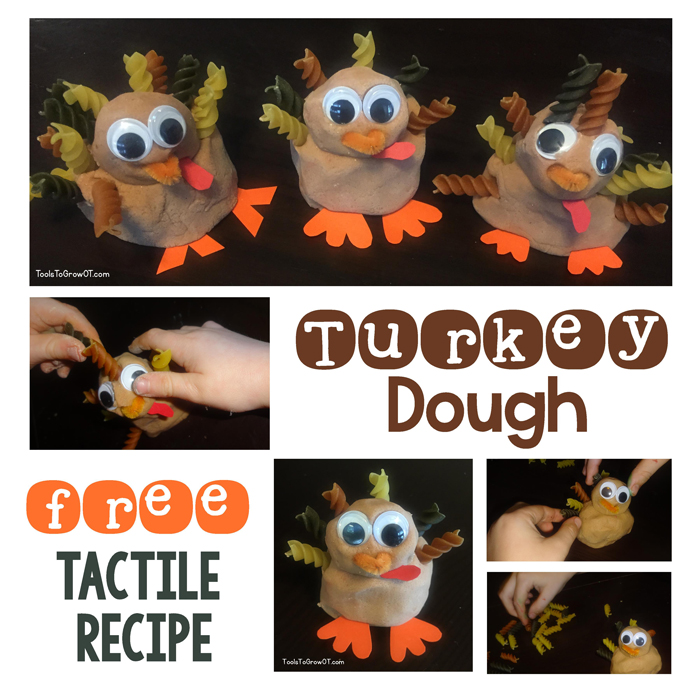 Materials Needed:
Construction paper for waddle & feet
Food Coloring (yellow, red, green)
Garden Rotini Noodles (multi-colored)
Steps to Assemble:
1. Mix the table salt and flour together in a bowl.
2. Measure water. Add food coloring to water to make dough brown (3 yellow, 3 green, & 3 drops red). May need to add more drops of each coloring.
3. Slowly add the water to the salt and flour mixture.
4. Knead the mixture until the dough is moist and doughy.
5. You may need to add a little water if dough is too dry.
6. For softer dough add a little more flour, for coarse dough add a little more salt.
7. Form into a small ball of dough for the turkey's head, and a larger ball for the turkey sculptures body.
8. Add 2 googly eyes, nose, feet (cut out from orange construction paper), and garden rotini noddle's to complete your turkey.
9. The completed projects will require several hours to air dry.
Fun Tips!
Some children may initially resist mixing the ingredients with their fingers.
Allow the child to use a spoon until he or she develops a tolerance.
Gently entice your child to use the dough to create and explore.
This dough may be used for squeezing, pounding, rolling and using cookie cutter and plastic knives.
We hope this tactile activity is GOBBLES of fun!!! Let's enjoy the pleasure of some Thanksgiving fun while giving our children the Tools to Grow!

Be sure to look for our other Thanksgiving Resources and Activities! These include:
Thanksgiving Color by Number
Visual Discrimination Turkeys!
I am Thankful Cards - FREE!
Turkeys on the Loose! Sequencing Game
If a Turkey Waddled into … Handwriting Prompt
Let's Draw! Thanksgiving Game
Thanksgiving Riddles - TYPING Edition!
Thanksgiving Activity Table & Place Mat
You can find our Thanksgiving resources Here: Thanksgiving Resources

We also have lots of fun Autumn/Fall themed Resources and Activities. Find them Here: Fall/Autumn Resources & Activities
Wishing you all a Happy Thanksgiving!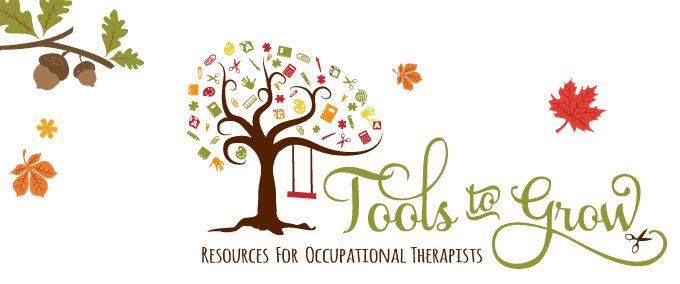 Related Topics: Activities/Crafts , Bilateral Coordination , Fall/Autumn , Fine Motor Skills, Free Resources , Thanksgiving