Fluffy Polar Bear - Tactile Craft
01.03.2016
We have a great tactile winter Polar Bear craft that children of all ages will love to make! This activity addresses a variety of skills including fine motor control, bilateral coordination, visual motor integration, visual perception, and sensory processing.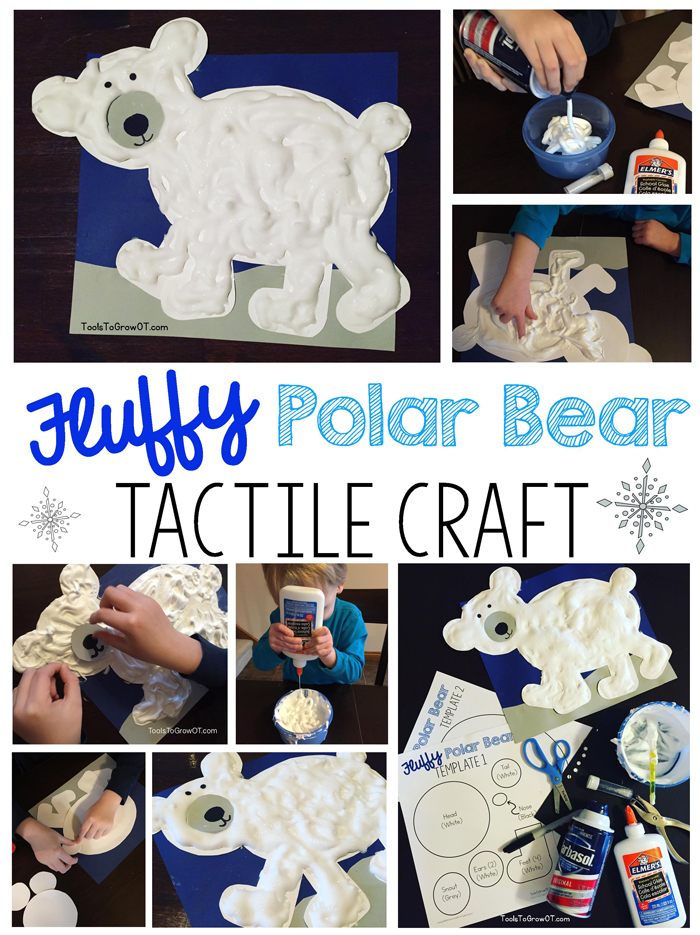 This Polar Bear craft is designed to promote the following essential skills:
Fine Motor Skills
Strengthening through squeezing the glue and shaving cream
Dexterity - manipulating materials and tools
Bilateral Coordination - Tracing stencils
Tracing stencils is an important skill that requires the hands to perform different, but complementary actions.
Scissor Skills - Cutting out shapes
Cutting with scissors involves the skill of hand separation, fine motor coordination, bilateral coordination, and eye-hand coordination.
Visual Perception Skills- Arranging animal parts into a whole
Spatial Relations to properly perceive polar bear parts relative to oneself and in relation to each other.
Sensory Processing Skills - Fluffy Paint
This activity allows a child the opportunity to explore and create with their fingers!
The sensory skills addressed in this winter craft include:

Tactile- offers a variety of touch experiences
Proprioception- adjusting pressure to allow for firm or light touch as needed
Other skills addressed in this activity include:
Following verbal & written directions
Tool use- filling, pouring, mixing
Materials Needed:
White Cardstock/Construction Paper
Black Cardstock/Construction Paper
Grey Cardstock/Construction Paper
Instructions to Print:
- Print out Polar Bear Pattern/Templates (2 pages total) on cardstock or heavy paper.
- Cut out each individual part - the child will use these to trace.
Instructions to Assemble Polar Bear Craft:
1. The child uses the stencils (patterns) to trace each part of the Polar Bear as indicated on colored or white construction paper/cardstock.
For example, the child would trace the foot stencil four times on white cardstock/construction paper.
2. Cut out all pieces (adult may need to assist depending on skill level of child).
3. Take a full page of construction paper (we used dark blue) and glue a strip of grey construction paper to the bottom for snow.
4. Assemble and glue the feet, body, head, ears, and tail together on a full page of construction paper.

5. Mix shaving cream and glue (see printable recipe) to create "fluffy paint" for the Polar Bear's body.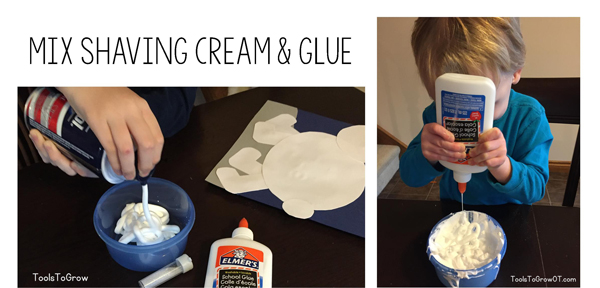 6. Once mixed, transfer the fluffy paint onto the Polar Bear with fingers or tool (paintbrush, q-tip, etc.).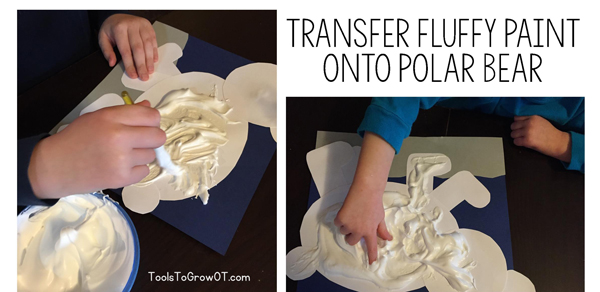 7. Glue the black nose onto the gray snout.
8. Draw a mouth on the gray snout with a black marker.
9. Press completed snout, nose, and mouth into the fluffy paint on the Polar Bear's head.
10. Using a hole punch, punch out 2 small black dots for eyes and press into fluffy paint on face.
11. Shake white glitter into the fluffy paint for a fun glitter effect!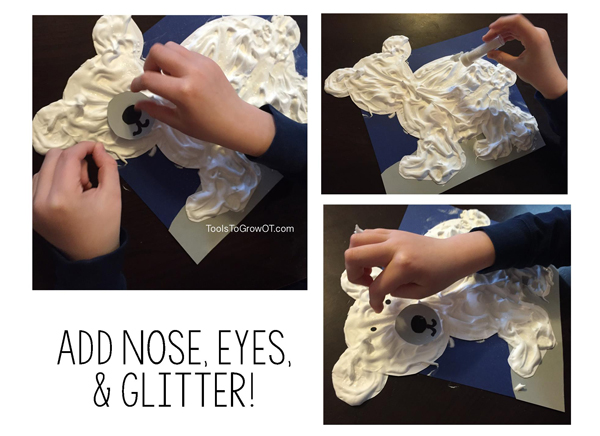 12. Allow craft to dry before hanging up.
Tips:
Some children may initially resist mixing the ingredients with their fingers.
Allow them to use a spoon until he or she develops a tolerance.
Some children may need to apply the mixture with a paint brush.
Gently entice your child to use the mixture as finger paint.
When dry the paint will have an elevated or puffy appearance.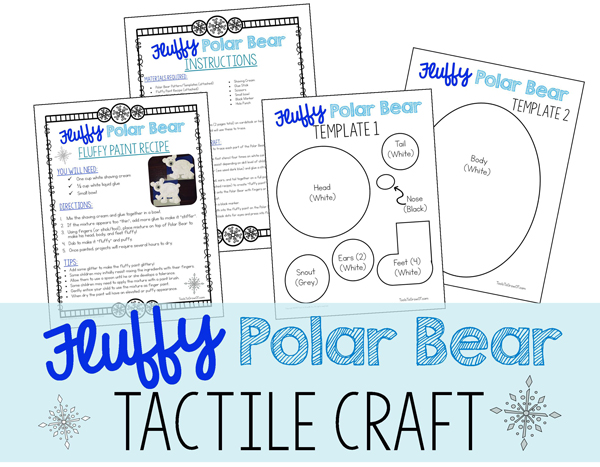 Be sure to check out our Sensory Challenge Educational Series for Home. These informational resources and handouts are written in an understandable and comprehensive manner targeting many consequences of difficulties with sensory processing. Use these handouts to help children manage the following Sensory Challenge Areas: Tactile, Auditory, Vestibular, Daily Living Skills, Community Skills, and Attention & Challenging Behavior.
Sensory Challenge Educational Series for School is an Educational Series that includes 31 Pages of Tips, Strategies, and Detailed Information to Help Students Cope at School. Sensory Challenge Areas Include: Tactile, Auditory, Vestibular, and Attention & Challenging Behavior. Read the blog post on this series here!
Looking for more winter fun?? We have LOTS of new winter themed resources!
1. Sleeping Polar Bear: Fine Motor Quilt Activity
This winter themed polar bear quilt activity is designed to promote development of following directions, eye-hand coordination, fine motor, and visual motor integration skills.
Includes detailed directions to assemble, visual sequencing steps, quilt template, weaving strips, and sleeping polar bear visual (this is where the child will place the quilt!).
This 20 page print and go packet includes a variety of performance and skill areas!
FREE Trial Roll & Color/Roll & Colour can be found here!
3. "Hole Punch" of Mitten Fun! FREE printable!
5. Spin and Walk like Winter Animal
6. If I were a Penguin - Craft & Tactile Activity FREE printable! Read blog post on this activity here!
7. Dress up Winter Doll: Boy & Girl Versions
8. Igloo Flurry - Oral Motor Game
9. Mitten Mix Up! Matching and Fine Motor Game
10. Snowman Fun! (Connect Dots & Maze)
11. Typing & Printing Winter Riddles
12. Beat the Clock Winter Dressing Game
Self-Help/Life Skills ADL Winter Dressing Game!
This fun and exciting ADL game is great to play individually or in a group setting.
It helps children improve their fine motor control and motor planning skills required for dressing.
13. Winter themed Occupational Therapy Reward Cards
This activity addresses a child's ability to:
Learn spatial orientation and directionality concepts
Develop map skills and understanding of compass terms (north, south, east, west)
Apply number concepts/count
Follow written directions
Visually scan and localize in near space
Execute sequenced actions
We hope these winter themed resources will be SNOW much fun!!!!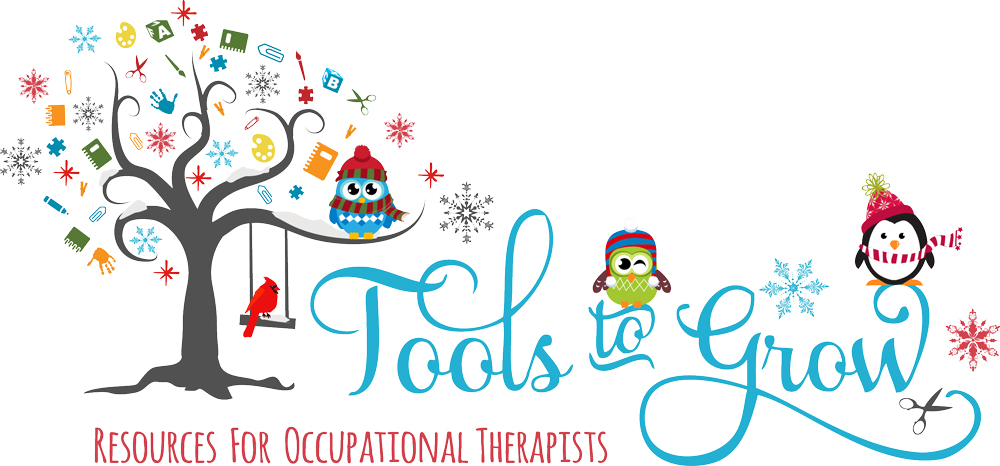 Related Topics: Activities/Crafts , Fine Motor Skills, Winter