Gifts for Growing! Winter Learning Activity Kit
01.19.2016
Tools To Grow, Inc. is excited to launch our newest offering…Gifts for Growing!
This theme based kit fulfills our mission to provide valuable tools for the most important job there is … helping children grow!
A gift for the child in your life… Parents, grandparents, and family members can give a gift of creativity and learning.
A gift for yourself… A tremendous time saver for therapists and teachers to use with multiple students. We know how time consuming it can be to organize materials, resources, and supplies that provide excellent educational and therapeutic benefits. We have done all the work! Suitable for all children…even those that need extra help for learning.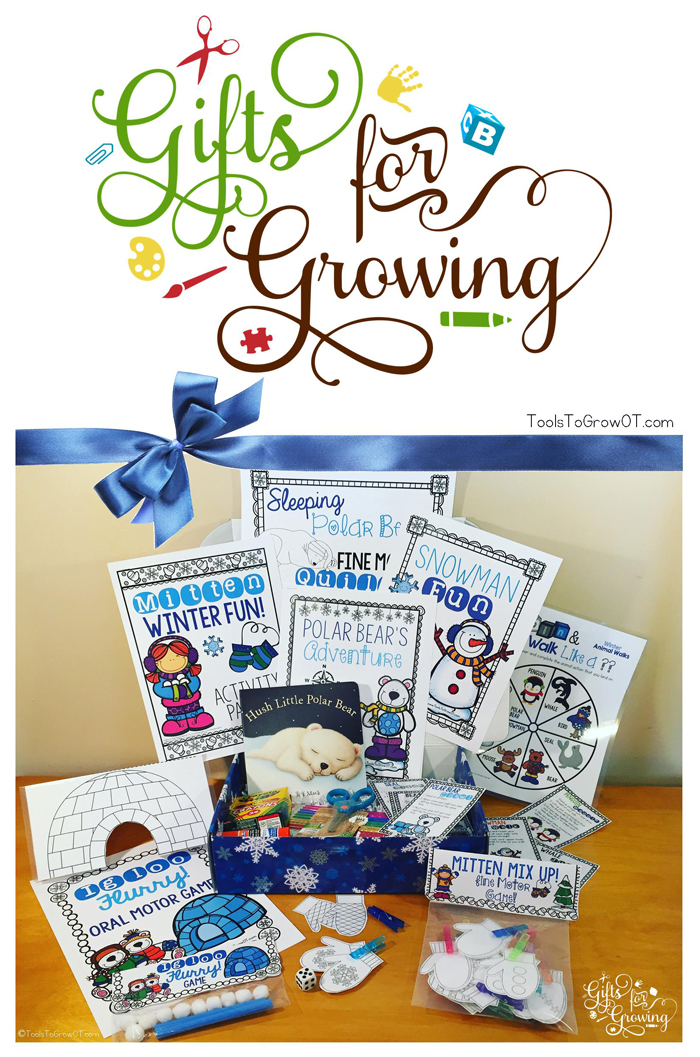 This affordable winter theme kit is suitable for most children 4-10 years of age. These "hands on" enrichment activities effectively target foundation skills to help a child grow in the following areas:
Learning & Problem Solving: Literacy, compass use, early math skills, printing and writing
Language Development: Listening, following directions and vocabulary expansion
Motor Skills: Fine & gross motor skills, strength, endurance, tool use
Sensory Motor Development: Balance, oral motor skills, spatial mapping, sequencing and body awareness
Each Winter Learning Activity Kit will contain the following:
1) A children's Winter/Polar Bear themed book: suitable for ages 4-10 years
2) 15 hands on activities related to the book: Each hands-on and engaging activity is printed on high quality paper. They are printed in color and/or laminated as indicated below. The activities include:
Polar Bear Quilt Fine Motor Activity - A unique weaving craft
Polar Bear Adventure! - Use a compass, legend, and grid map to follow the Polar Bear's adventure
Mittens Activity Packet - 8 different activities! This package addresses a variety of visual discrimination skills important for reading and writing
Spin and Walk Like Winter Animal Game - Pretend to be a winter animal while developing strength and endurance. Includes laminated high quality spinner board and 8 laminated winter animal action cards.
Igloo Oral Motor Game - Blow the snowball into the igloo! This unique game provides an opportunity for developing social and oral motor skills. Includes laminated igloo, score board, instructions, and game pieces.
Mitten Mix Up! Fine Motor Game - Work fast to match and clip the mittens! Includes 20 laminated matching paired mittens and 20 clothespins.
Snowman Fun! Connect Dots
3) Tools/Materials:
About the Creators…
As Pediatric Occupational Therapists we have a comprehensive background in development and learning. We have compiled the perfect combination of fun and effective tools and materials to support a child's growth in a variety of performance areas.
As Moms we understand that time spent together is time well spent. This kit can be the centerpiece for hours of fun and educational time spent together with your little ones. What a wonderful way to start the New Year!
Visit our Etsy Shop to find out more about this exciting new product!!

Related Topics: Activities/Crafts , Gifts for Growing, Press Releases, Tools to Grow at Home , Tools to Grow at School