Tactile Holiday Ornaments: Sensory Fun!
12.04.2016
Staying true to our mission to provide valuable resources that children will find engaging, Tools To Grow is happy to offer Tactile Holiday Ornaments! Using a motivating Holiday theme, this FREE and effective resource targets a variety of performance challenges children may encounter.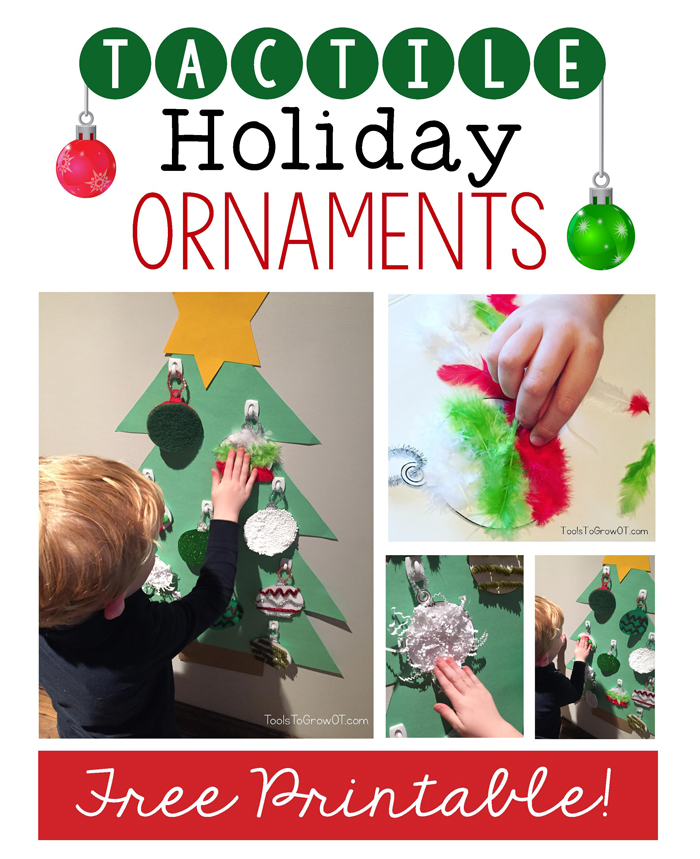 If you know a child that needs the opportunity to explore with their fingers while experiencing a variety of textures and scents, this activity is the perfect match! Not only will the child create an ornament that he/she can use to decorate a tree, but he/she will also have the opportunity to develop skills in the areas of fine motor coordination, bilateral integration, and praxis.
Tactile Holiday Ornaments is designed to help a child develop sensory discrimination; the ability to interpret and distinguish messages within the sensory systems. The Tactile Holiday Ornament resource can be used to help a child discriminate what he/she feels…hard, soft, smooth, bumpy, cold, warm, wet, dry, rough, etc. The ability to accurately distinguish objects/textures by touch is important because this is what enables a child to perform hand use tasks without the use of vision. In other words, without looking at his/her hands, a child with intact tactile discrimination skills is more likely to successfully tie a knot, zip a jacket, button, snap, or find an object within their back pack.
For tactile "sensory seekers", Tactile Holiday Ornaments is a wonderful activity that provides children with the opportunity to creatively manipulate a wide variety of textures and materials in an acceptable manner.
For "sensory avoiders", this resource offers a fun and motivating activity to carefully and methodically present tactile experiences in a controlled manner.
Tactile Holiday Ornaments can also help a child develop his/her olfactory sensory discrimination. This is necessary for recognizing foods and beverages by smell, determining if something is burning, and detecting other noxious smells. Intact olfactory processing contributes to an enjoyable mealtime experience. For those children that tend to be hyper-sensitive to olfactory input, this activity can help a child learn to identify and accept a variety of scents.
Materials Required:
Tactile Medium (use your imagination!!)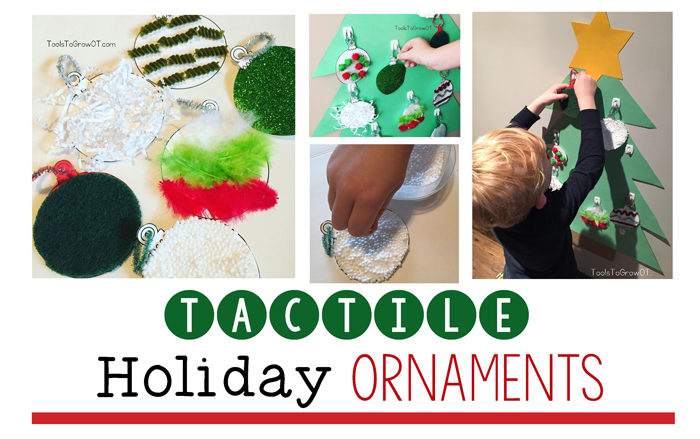 To Assemble & Create:
1. Cut out an ornament.
2. Child may begin to decorate by using traditional tools such as crayons and markers.
3. Next, decorate the ornament using glue and medium that offers tactile and olfactory experiences. Suggestions include: pieces of felt, feathers, faux snow, pieces of glitter sticks/chenille sticks, green or red dry rice, green or red sand, cotton balls, mini pom-poms, cinnamon spice, nutmeg spice, etc.
You can find this FREE Printable Here!
Find Hanukkah Themed resources here.
Wishing you a wonderful holiday season filled with happiness and fun!

Related Topics: Activities/Crafts , Christmas/Holidays, Early Intervention , Fine Motor Skills, Kinesthetic Awareness , Sensory Processing/Self-Regulation