April is OT Month!! Celebrating 100 Years!!!
03.28.2017
April is almost here, which means it is almost OT Month! This is Occupational Therapy's Centennial, marking 100 years as a profession. This is an important time to celebrate as Occupational Therapists!
Tools To Grow is happy to share lots of great OT Month resources and activities with you. We hope they inspire you to celebrate, enjoy, and promote Occupational Therapy throughout the month of April.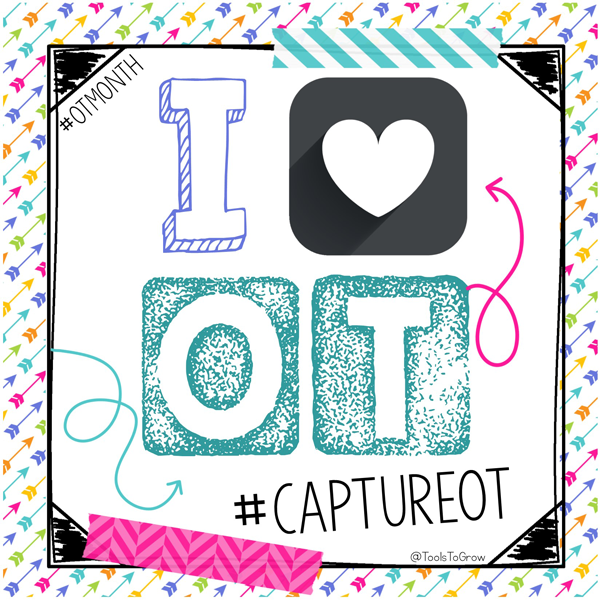 To celebrate OT Month 2017, we are happy to announce the following:
We will be continuing our Photo-a-Day Challenge!
Time for a Promo Code!
NEW! OT Trivia Flap Activities
NEW! OT Month Maze Missions
NEW! OT Month Bingo
Be sure to download resources such as FREE "What is Occupational Therapy?" informational handout, OT Month Posters, OT Month Craftivity, Coloring Book "What Do I Do in OT?", and lots more resources to inspire you to promote and celebrate OT Month!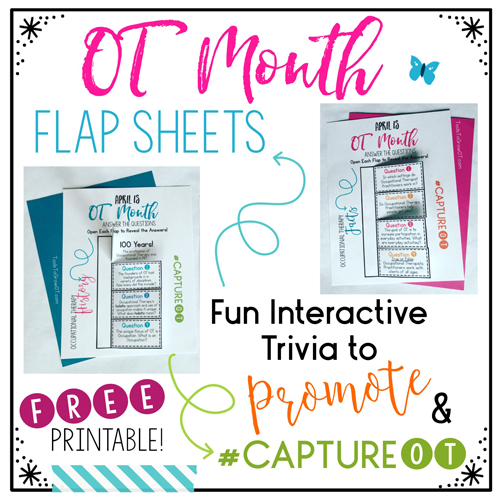 OT Month Flap Sheets: Fun Interactive Trivia to Promote & #CaptureOT
This FREE resource is a great activity to complete in theray sessions and/or decorate your therapy space to promote and educate others. To complete, assemble as directed. Answer the Questions. Open Each Flap to Reveal the Answers! Includes 2 Versions:
(1) Occupational Therapy History
(2) Occupational Therapy Facts
Questions Include:
OT is celebrating how many years since the profession was founded?
The founders of OT had backgrounds in a variety of disciplines. How many did this include?
The goal of OT is to increase participation in everyday activities. What are everyday activities?
And More Questions!!!
You can find this Fun OT Month Trivia Game Here!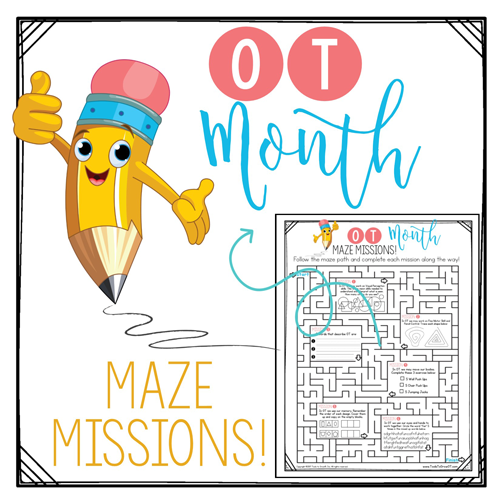 Follow the maze path and complete each mission along the way! A great activity to celebrate OT Month! Addresses a variety of skills targeted in School Based Occupational Therapy: Fine Motor Skills, Gross Motor/Core Strengthening, Visual Perceptual Skills, and Visual Motor Integration Skills.
You can find this Printable here!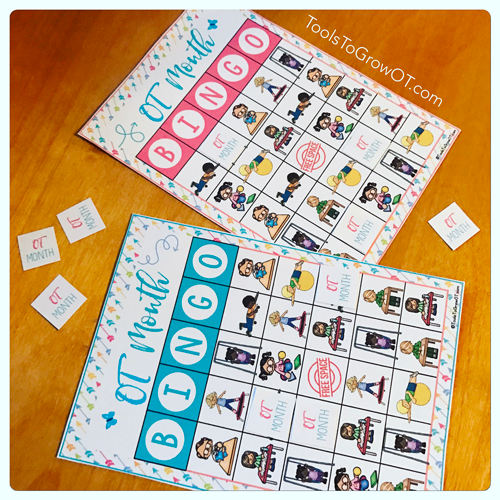 This BINGO activity is fun and only takes a couple minutes of time to set up and play. The Perfect OT Month game to play in a group or individual setting.
Includes 4 different versions/game cards, caller cards, and bingo covers. Includes a color and black/white (ink friendly) version!
You can find this Printable BINGO Game here!
Photo-a-Day Challenge 2017 #CaptureOT!
This is our third annual Photo-a-Day Challenge! We are so excited to be continuing the tradition to Promote and Capture Occupational Therapy!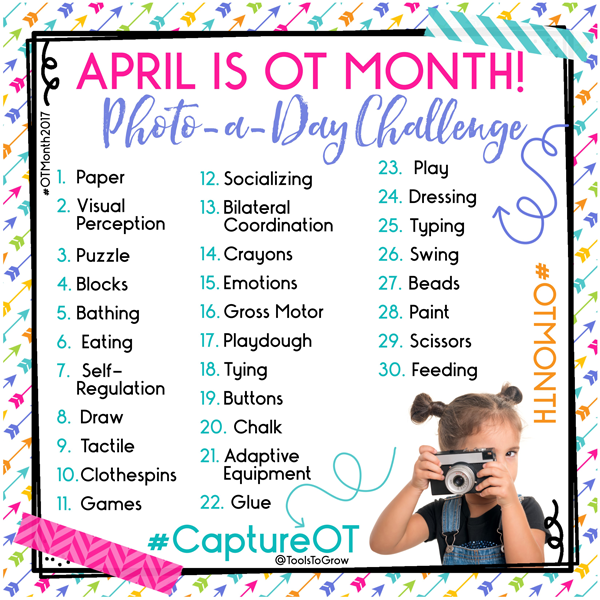 Instructions:
Step 1. Take a photo based on the suggested theme each day in April 2017.
Step 2. Share these images on social media, such as Instagram, Facebook, or Twitter.
Step 3. Use the hashtag #CaptureOT in your subject line so that everyone can search and browse them. Let's celebrate OT Month and Capture what we do every day!
Step 4. Be sure to check out other people's photos! You can see what others are posting by searching the hashtag #CaptureOT or #OTMonth2017.
For example: Day 1 is April 1st. The photo challenge of the day is "Paper." You can take a picture of something you have done that day or previous days that involve paper. Use #paper, #captureot, #otmonth, #OTPhotoChallenge, #OTCentennial, or #OTMonth17 when you share on social media. Be creative and have fun with it. Let's Promote Occupational Therapy and have fun!
Photo-A Day Challenges:
We have made the above image that you can save and share, which includes the suggested theme for each day in our photo-a-day challenge. You can download the image here. We would love if you could post every day, but we know how busy life is! You can post for as many days as you wish, and if you are behind that's okay! Just post as many as you can and have fun! Be sure to include the hashtag #captureot. You can use other hashtags to promote OT Month as well. These include #occupationaltherapy, #OTCentennial, and #otmonth.
OT Month Photo a Day Challenges:
April 1: Paper
April 2: Visual Perception
April 3: Puzzle
April 4: Blocks
April 5: Bathing
April 6: Eating
April 7: Self-Regulation
April 8: Draw
April 9: Tactile
April 10: Clothespins
April 11: Games
April 12: Socializing
April 13: Bilateral Coordination
April 14: Crayons
April 15: Emotions
April 16: Gross Motor
April 17: Playdough
April 18: Typing
April 19: Buttons
April 20: Chalk
April 21: Adaptive Equipment
April 22: Glue
April 23: Play
April 24: Dressing
April 25: Typing
April 26: Swing
April 27: Beads
April 28: Paint
April 29: Scissors
April 30: Feeding
Be sure to follow us to see our Photo-a-Day #CaptureOT

Instagram: https://www.instagram.com/toolstogrow/

Twitter: https://twitter.com/toolstogrowot

Facebook: https://www.facebook.com/toolstogrowot
We are excited to share our OT Month Promo code savings! Become a Full Premium Member from Wednesday March 29, 2017 through Friday April 7, 2017 for $5.00USD off!
HURRY!!! Don't miss out! Become a Full Premium Member today!
Important Tip for Current Members Wanting to Renew & Use Promo Code
Are you currently a member and wish to renew? Email us to take advantage of this PROMO code sale! You can renew early and utilize the code for savings!
Email us to find out more information here! or email us at [email protected]
Additional OT Month Resources and activities that students/patients can complete throughout OT Month include the following:
What is Occupational Therapy? FREE Handout and Poster
OT Month Craftivity - FREE Printable!
What Do I Do in Occupational Therapy? Coloring & Printing Book
Visual Scanning: OT Supplies
Form Constancy: OT Supplies
Staying true to our mission to provide our members with valuable tools to help with the most important job there is … helping children grow; we are pleased to offer these OT Month resources! You can find them here!
We are so thankful to be a part of the Occupational Therapy profession. A career that allows us to impact the lives of many, and to be creative and client-centered on a daily basis. Occupational Therapy is a profession that is gratifying, challenging, and filled with countless opportunities to make a difference in the lives of our clients and families. How thankful we are to be a part of this amazing profession!
Wishing everyone a wonderful OT Month! Let's Celebrate our 100th Anniversary and #CaptureOT!

Patti & Shelley

Related Topics: OT Month