PEDIATRIC YOGA: BENEFITS FOR THE MIND, BODY, AND SOUL
12.07.2017
We are very pleased to present a guest blog from Hannah Field, a registered and licensed occupational therapist. She is also an approved Radiant Child Yoga teacher and is in the process of becoming a certified handwriting specialist through the Learning Without Tears curriculum. She is very enthusiastic about the benefits of yoga, and we are very thankful that she has shared the following with us.

"Yoga", in its most literal sense, means to "yoke" or "unite." Therefore, yoga unites the physical, psychological, and spiritual components in a person. It is a dynamic, mindful, and a purposeful practice that focuses on highlighting each person's unique and genuine being while all the while, awakening the creative possibilities within.
The type of yoga that I learned and have been practicing as part of my own daily routine and with my students is called "Kundalini Yoga." It is a form of not only physical, but mental exercises that with practice, encourages mindfulness, self-regulation, and an improved connection with our inner wisdom and radiance.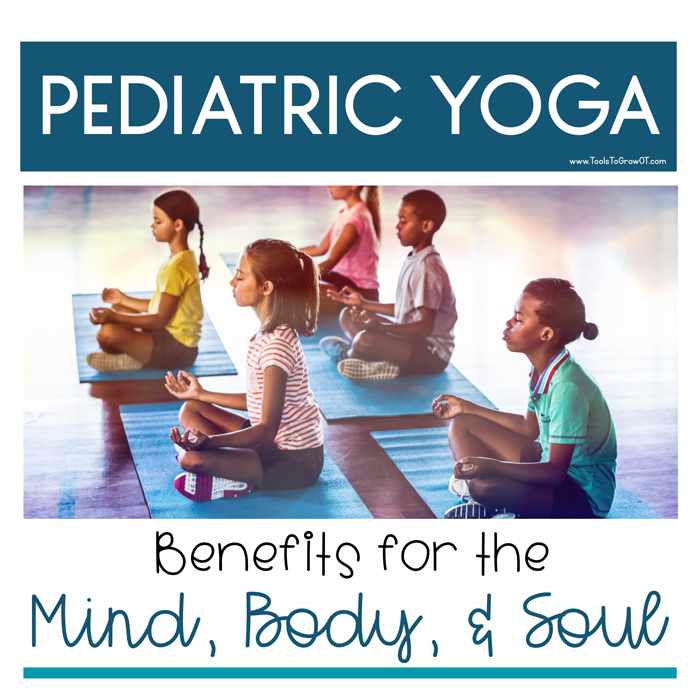 Kundalini yoga can be practiced by all who enter with an open heart and mind ranging from infants to older adults. I have learned during my training through Radiant Child Yoga (RCY) that it is important to maintain the childlike energy within ourselves in order to provide a fun and supportive environment for children to learn about themselves through body/joint awareness, purposeful breathing, dynamic strengthening and stretching, and balance; all the while, having a good time! When practicing Kundalini yoga, it is important to note that we don't want our children to be forced into positions or even remain on their mat! We invite them to join us in embracing all that yoga has to offer because only they know what type of input or feedback is needed in order for them to self-regulate their bodies and learn from their own experience.
Kundalini yoga typically follows a certain sequence that is as follows: tune in, warm up, yoga poses with purposeful breathing interwoven throughout, deep relaxation, wake-up exercises, meditation, and lastly the "long time sun" song. I follow this sequence with my students and it has opened my eyes as to how independent and engaged they become when provided the opportunity to practice yoga on their own!
I have one student who constantly seeks sensory feedback as evidenced by running around the classroom, jumping off of chairs, slamming her body into the floor, and utilizing increased pressure on her coloring/writing utensils. She also has been noted to experience self-directed and maladaptive behaviors such as screaming, attempting to bite/scratch others, and eloping from the classroom. I particularly schedule yoga at least 1x/week with her to address some of her occupational therapy goals which are aimed at providing proprioceptive (joint awareness through deep pressure and heavy work input), vestibular (movement based input), and self-regulation/self-calming strategies to better assist her in the classroom. The progression of her ability to maintain attention and complete adult directed activities have drastically improved since the beginning of the school year. She enjoys coming to yoga and requests certain poses, especially "log rolling" in her yoga mat for deep pressure in addition to weight-bearing poses such as down dog and cat/cow. She initially was able to participate in relaxation for 30 seconds before removing herself from her mat but has gained patience and intuition through practice and is currently able to maintain a still position for 3-4 minutes! She has shown a decrease in mal-adaptive behaviors in the classroom and within the school environment and has been more receptive to learning; a calm brain is a receptive brain!
In conclusion, yoga has many benefits for the mind, body, and soul. It promotes self-discipline, provides the body an opportunity for exercise and physical coordination, develops right/left brain coordination, promotes self-awareness both physically and emotionally, increases self-confidence, encourages awareness of the child's inner spirit, and most importantly, is fun! I hope this blog was helpful and I invite you to make yoga a part of your daily life! I will leave you as I leave my yoga sessions with the "long time sun" song to end on a good note:
May the long time sun shine upon you…
All love surround you…
And the pure light within you…
Guide your way on…
Satnam
NEW YOGA RESOURCES!
Tools To Grow is excited to introduce our Pediatric Yoga Cards! These Yoga Cards will help children of all abilities to:
Manage stress through breathing, meditation, and healthy movement
Build concentration and sustained focus
Participate in a non-competitive, supportive practice of exercise for the body & mind
Increase flexibility in joints and improve balance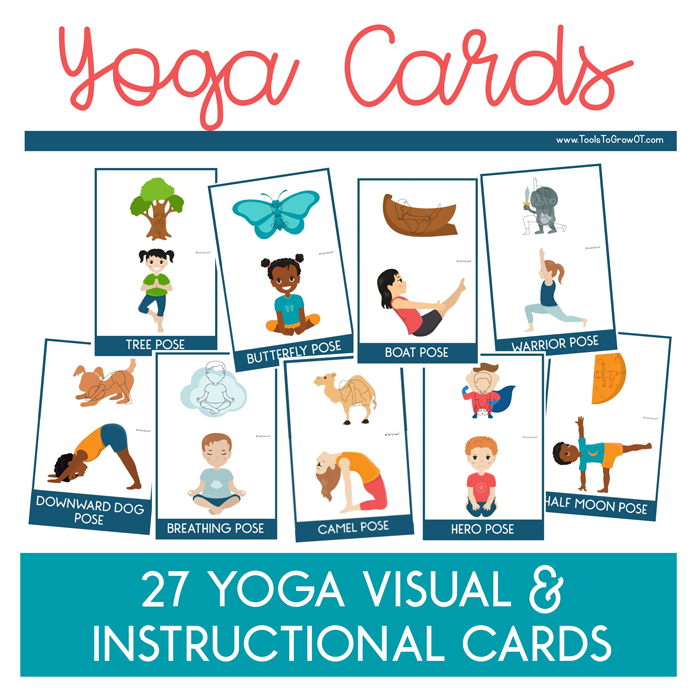 Yoga Cards:
This high quality printable PDF includes 27 Pediatric Yoga Poses. Each Yoga Card includes:
a visual of a child assuming the pose,
an associated object representing the pose,
detailed written instructions for correctly performing the posture
The 27 Yoga Poses included:
TREE POSE
HALF MOON POSE
BRIDGE POSE
CAT POSE
BUTTERFLY POSE
COBRA POSE
COW POSE
FISH POSE
DOWNWARD FROG POSE
CAMEL POSE
MOUNTAIN POSE
TABLE TOP
DOWNWARD DOG
HERO POSE
SPHINX POSE
WARRIOR 1 POSE
EAGEL POSE
CHILD
TURTLE
BREATHING POSE
BOAT POSE
PLANK
RAG DOLL
AIRPLANE POSE
RESTING POSE
CHAIR POSE
SEATED FORWARD FOLD POSE
Find these Yoga Cards HERE!
Download a FREE Sample of the Tree Pose HERE!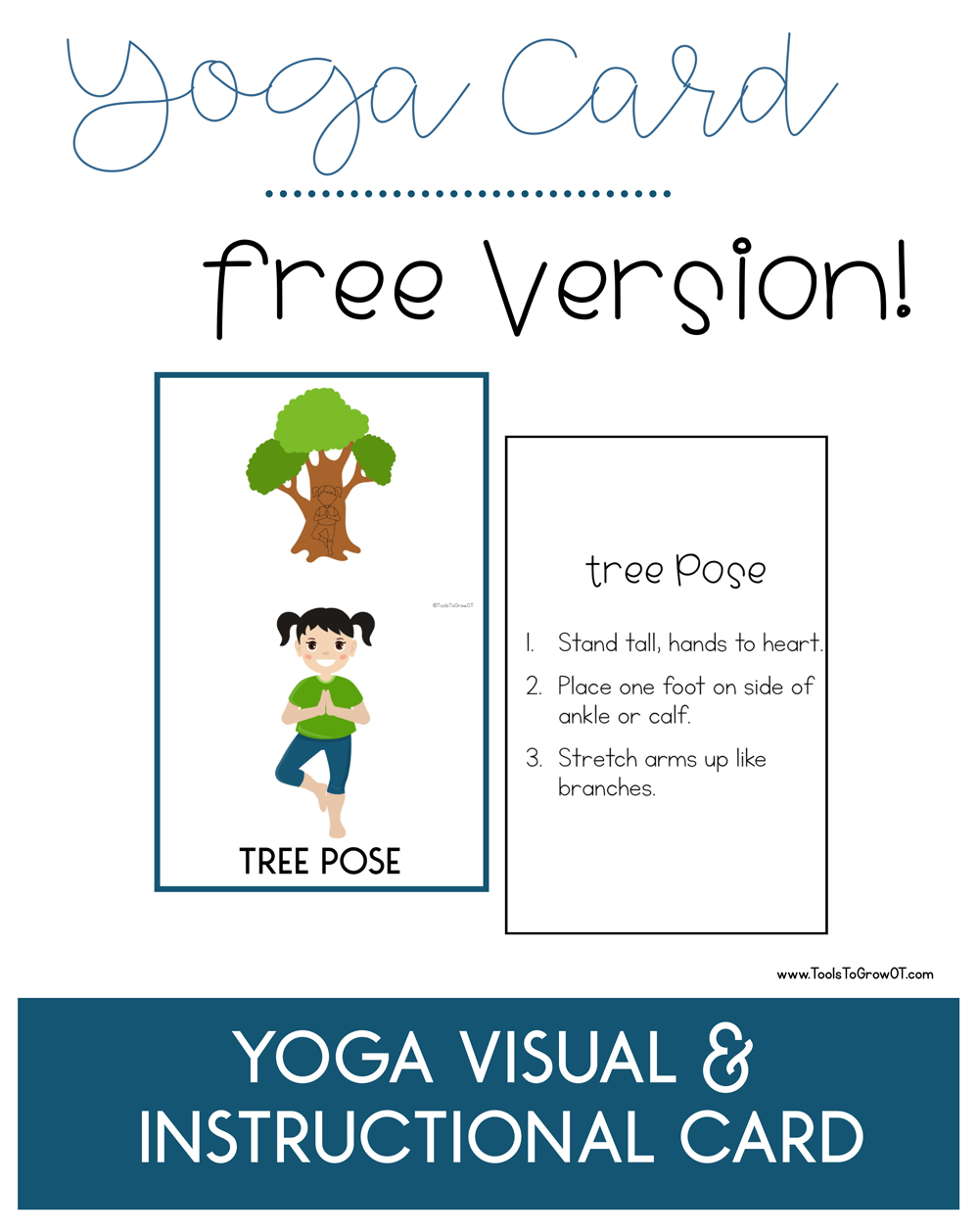 Related Topics: Yoga