STRENGTHENING EXERCISES: Developing Muscle Strength and Improving Proximal Stability
06.04.2018
Tools to Grow is pleased to present Kim Cassidy, Physical Therapist, who has the perfect solution to help the children in your life develop and strengthen their core and proximal stability. Kim will discuss her expertise in creating home exercise programs and introduce our new Strengthening Exercise Cards, Posters, Documentation, and Home Program. We are very thankful for Kim's dedication and passion towards child development.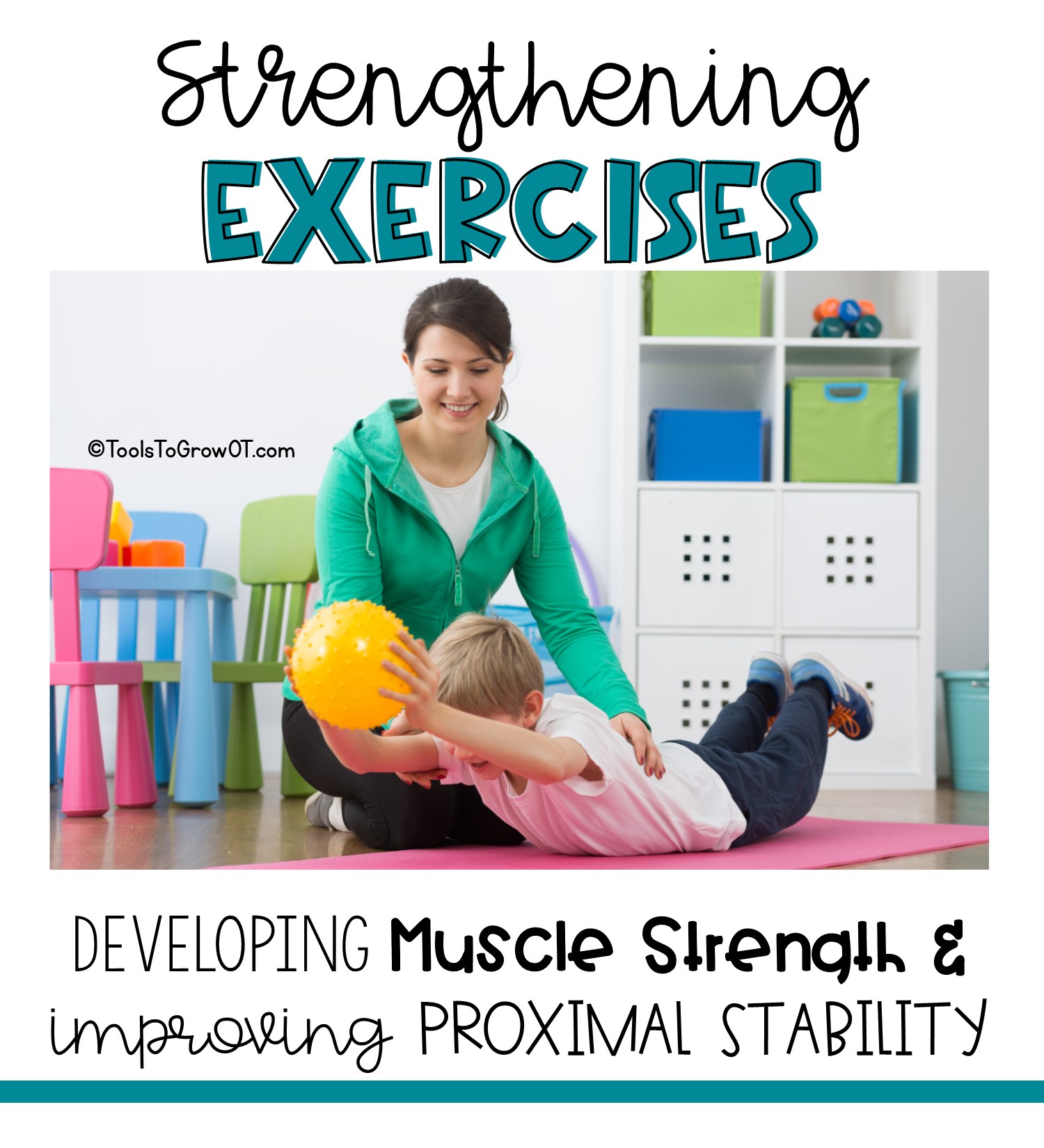 My name is Kim Cassidy and I have the honor of working as the Director of Physical Therapy for Tools to Grow Occupational, Physical, and Speech Therapy. I come to Tools to Grow Therapy with over 20 years of pediatric PT experience. Although I hold a full-time position working in a public school district in Western New York, I have never been able to give up my "extra" jobs working for agencies that provide Home and Community therapy services for Early Intervention and Preschool students. It allows me the opportunity to work with kids and their families at the earliest stages of development, where I feel I can have the greatest impact. I am beyond excited about my new role at Tools to Grow Therapy and happy to share with you the exercise programs that I have developed and implemented over the years with students of all ages.
In my years as a pediatric physical therapist I have found that EVERY student that I work with benefits from further developing their core and proximal strength. A strong "core" facilitates improved posture and offers a more stable base for higher level balance skills and coordinated movement of one's arms and legs.
What is Muscle Strength & Why is it Important?
Muscle strength refers to the amount of force that a child's muscle generates to support their joints, hold their body in upright postures, and move against gravity. Infants and young children develop muscle strength when playing in and transitioning between developmental positions such as prone, hands and knees, kneeling, and standing, and during motor play (climbing, jumping, stepping up /down, squatting and standing, running, lifting, and carrying toys).
The following strengthening exercises are to be used by therapists to further develop muscle strength and improve proximal stability (stability of the joints closest to the body such as the shoulder girdle and the hip joint) thus providing the support needed for optimal postural alignment and endurance, improved balance, and age appropriate motor coordination.
Increased shoulder stability and upper extremity strength provides a foundation for increased hand strength and improved fine motor control and precision. Improved hip stability and lower extremity strength provides a foundation for controlled transitions into and out of positions, efficient gait, and improved mobility skills (running, jumping, hopping, and climbing).
The way that children develop physically has changed with the always evolving infant and toddler positioning/seating options available. As a pediatric physical therapist, I clearly see the effects of this. Babies spend more time positioned in seating that offers them full support. From car seats and body slings to bouncy seats and swings, they simply do not spend as much time on a blanket on the floor as they used to. This adversely affects early development of the trunk muscles and muscles that surround the hips and shoulders. When these muscles do not develop sufficiently, children develop compensatory postures and movement patterns to accommodate for decreased strength and stability.
Exercise Programs
I strive to make PT sessions fun for the kids that I work with. I use positioning during game play and movement challenges (climbing, running, jumping, navigating obstacle courses) whenever I can during therapy sessions. I have found that as my students approach 4-5 years of age, an exercise program, although not always the most fun, is quite beneficial.
An exercise program can be used to target specific muscle groups and allows the therapist a hands-on approach to fade assist, advance the exercise, and increase repetitions. As students become more independent completing the exercises, an improvement in postural alignment and quality of movement is almost always noted. I have found that completing 3-5 exercises at the start of a therapy session engages the child and prepares their bodies for the movement or balance activities to follow.
As we approach summer vacation, I start to introduce exercises that the child can continue to work on with the support of their family while away from school and therapy. I teach 2-3 exercises at a time and will wait until a student can complete them well before adding more. I recommend practicing the exercises for a few weeks before sending them home. I have found that students are receptive to looking at pictures of the exercise and imitating them. I LOVE to use pictures of the child themselves doing the exercise in my programs- kids like to perform for the camera and parents are more receptive to the program when it comes home with cute pictures of their kid!
The exercises published here are the exercises that I use the most with students age 3-21. Pictures in both color and black/white are included for each exercise.
I hope that you find the exercise program a useful tool to use during therapy sessions as well as a resource for promoting carry over of strengthening activities at home.
STRENGTHENING Exercise Resources
Tools to Grow is excited to share the following new Strengthening Exercise resources! These include Exercise Cards, Exercise Posters, Tracking Forms, and Home Exercise Program.
The following exercises can be printed, laminated, and assembled to provide a visual tool for students to use while exercising with therapist or to be offered to families as a home exercise program.
Tools To Grow Exercise Strengthening Resources are organized into Four Sets:
Set 1: CORE Strength
Supine Flexion
Sit-Ups
Prone Extension
Bridges
Ball Pushes
Cup Stack
Cross Kicks
Squat Jumps
Mountain Climber
Plank Jumps
Plank
Tables
Table Kicks
Donkey Kicks
Set 2: UPPER EXTREMITY Strength
Knee Push-Ups
Seated Push-Ups
Wall Push-Ups
Push-Ups
Ball Press
Standing Ball Press
Tricep extensions
Ball Curls
Set 3: LOWER EXTREMITY Strength
Toe-Ups
Wall Squats
Squats
Sit-to-Stands
Stand-Ups
Step-Ups
Lunges
Lower Extremity Strength: Using Scooter Board
Foot/Ankle Strengthening Using a Ball
Foot/Ankle Strengthening Using a Ball
Foot/Ankle Strengthening Using Small Toys
Set 4: BILATERAL Coordination
Jumping jacks (feet only)
Jumping jacks
Scissor jacks (feet only)
Same side scissor jacks
Opposite side scissor jacks
STRENGTHENING Exercise Cards
These strengthening exercise cards are the perfect tool to use in therapy, as well as to send home for carryover.
There are four high quality cards per page for a total of 38 cards. Includes Color and Black/White (Ink Friendly) Versions.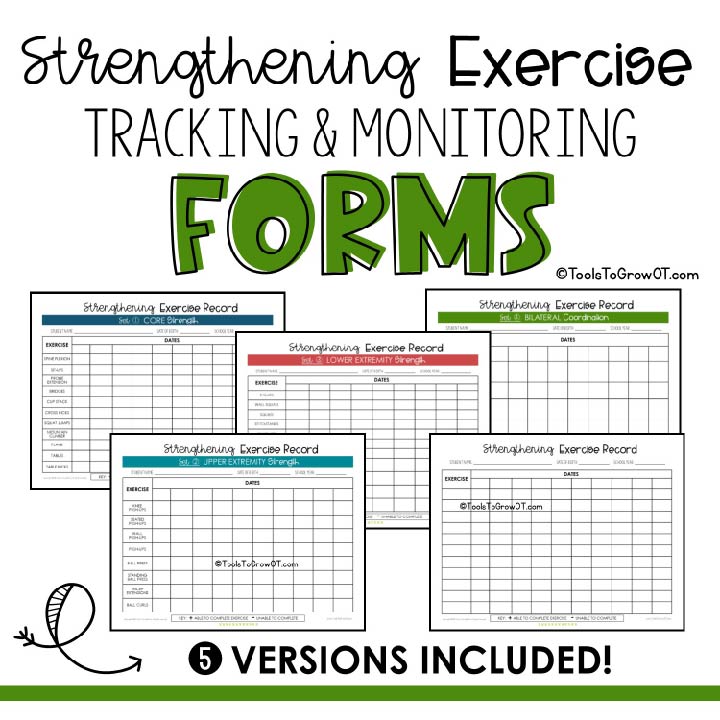 STRENGTHENING Exercise Tracking & Monitoring Forms
This Resource includes Five different versions. These forms are editable! You type directly into PDF to enter dates, student name, exercise, and tracking record.
Organized into the Four Sets of Exercise Cards. Lists Strengthening Exercises, Date Columns, and Key Code. A great and efficient way to track and monitor a child's ability to complete Strengthening Exercise Positions.
STRENGTHENING Exercise Posters
These strengthening exercise Posters are the perfect tool to use in therapy and clinic settings as a teaching tool.
There are two high quality posters per page for a total of 38 cards. Includes Color and Black/White (Ink Friendly) Versions.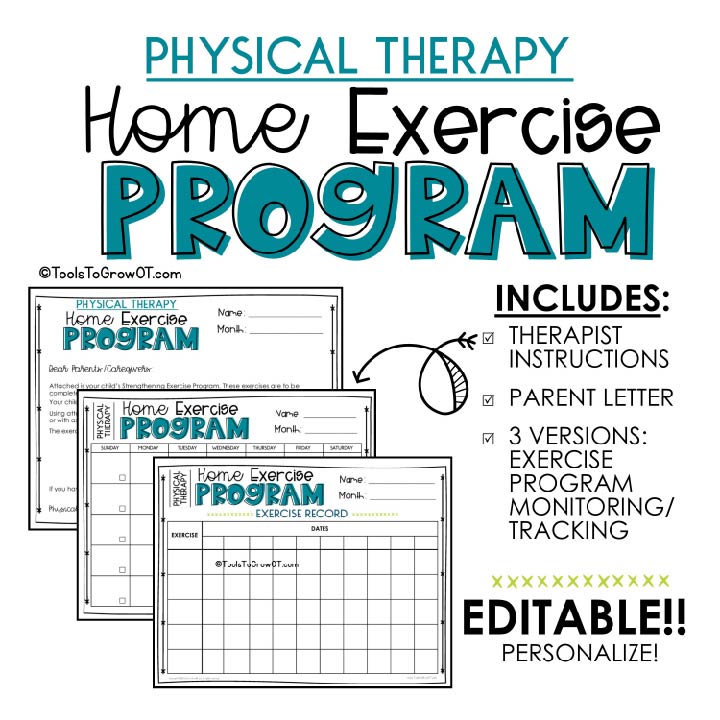 Physical Therapy: Home Exercise Program
This Home Exercise Program includes Parent/Welcome Letter and Three Versions of Monitoring/Tracking Forms.
Personalize by TYPING directly into PDF:
Type into Parent Letter to personalize instructions
Student Name/Month
Type Therapist Name
Three Versions of Tracking Forms Included:
(1) Calendar Version:
Type Days of Month
Type Exercises you wish student to complete in each square
(2) Tracking Sheet Version: 5 Column Version
Type Exercises into Columns
(3) Tracking Sheet Version: 10 Column Version
Type Exercises into Columns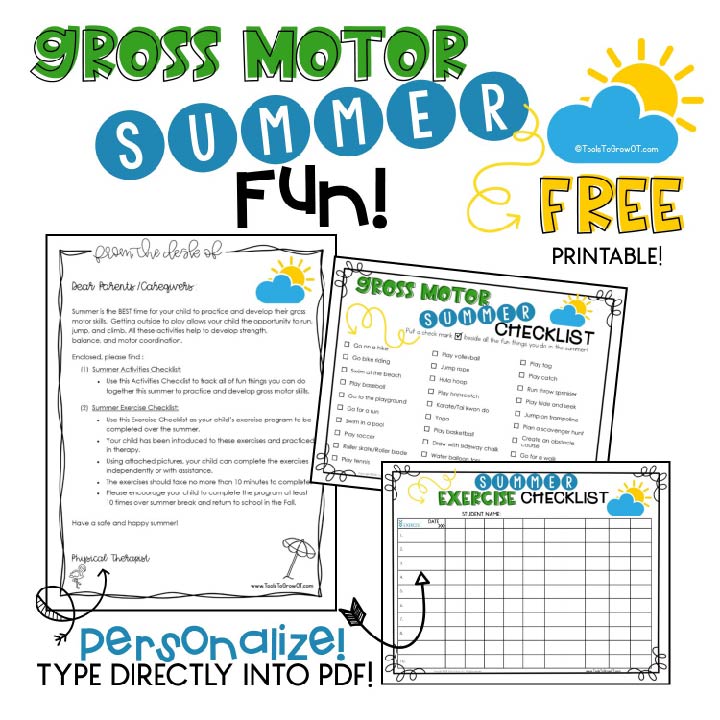 FREE! Summer Gross Motor Fun!
Tools to Grow is excited to present our SUMMER Physical Therapy Gross Motor Fun! This Summer Packet is a FREE Printable! This Packet includes:
Parent/Caregiver Introduction Letter
Gross Motor Checklist of Summer Fun!
Exercise Checklist – Editable!
Personalize by TYPING directly into PDF:
Type Student Name
Type Therapist Name
Type Exercises into Chart
Find these NEW STRENGTHENING EXERCISE resources here!
Find more Summer Resources here!
Related Topics: Core Strength, Exercises/Strengthening