5 Ways to Celebrate OT Month!!
03.31.2019
April is the American Occupational Therapy Month. We are excited to share 5 fun ways to celebrate and Capture OT! We hope these ideas inspire you to celebrate, enjoy, and promote Occupational Therapy throughout the month of April.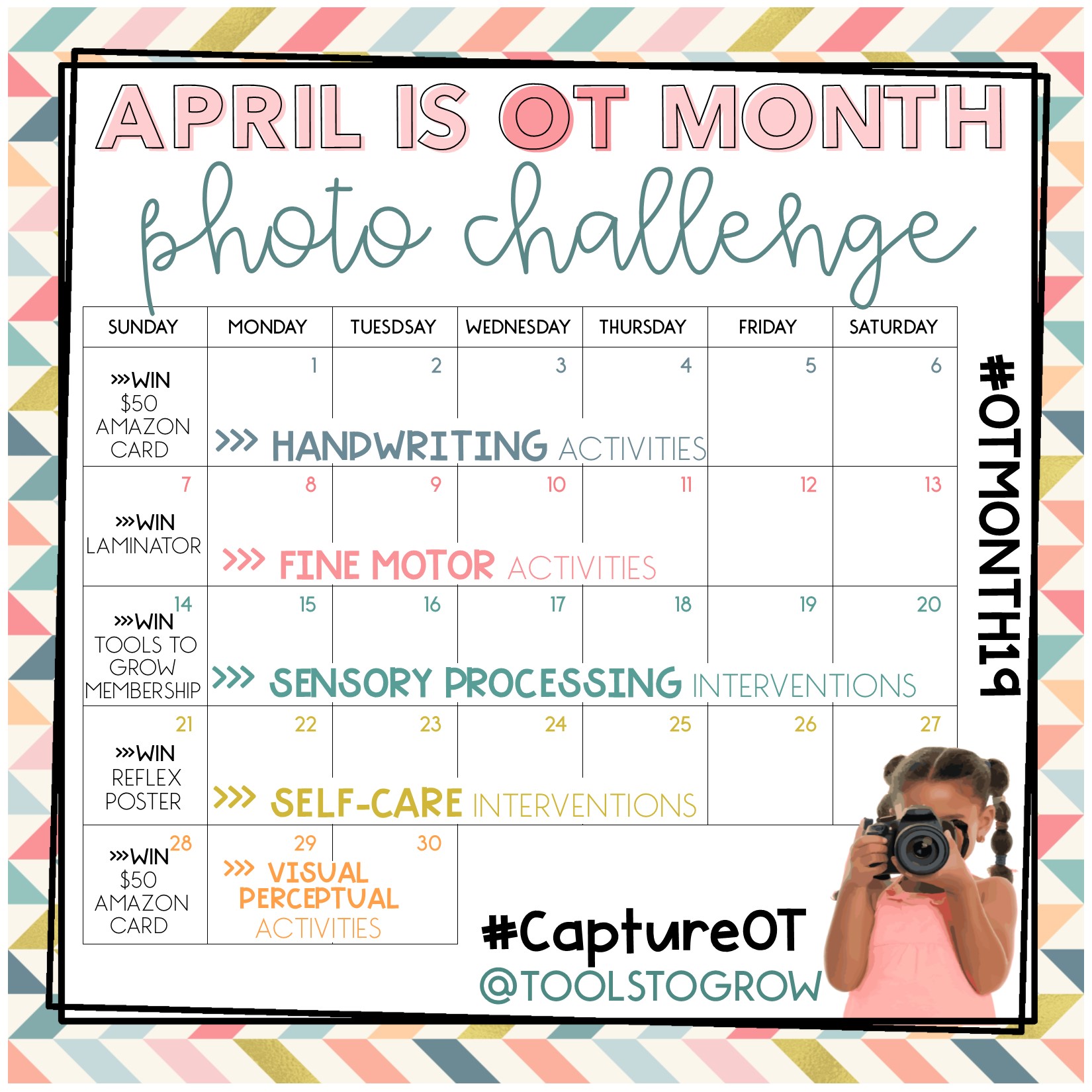 1. Participate in OT Month Photo Challenge 2019 #CaptureOT!
This is our fifth annual Photo Challenge! We are so excited to be continuing the tradition to Promote and Capture Occupational Therapy!
We have made the above image that you can save and share, which includes the suggested theme for each week in our photo challenge.
You can download the image here.
At the end of each week we will announce the winner of that week's prize! Contest open to residents of the United States only.

Instructions:
1. Take photos based on the suggested theme each week in April 2019. Post as many pictures as you want each week!
2. Use the hashtag #CaptureOT in your subject line so that everyone can search and browse them. Let's celebrate OT Month and Capture what we do every day!
3. Be sure to check out other people's photos! You can see what others are posting by searching the hashtag #CaptureOT or #OTMonth2019.
4. Tag us! @ToolsToGrow

For example: Week One is April 1st through 6th. The photo challenge of this week is "Handwriting Activities." You can take pictures of activities you use in therapy that address handwriting. Use #CaptureOT, #otmonth, #OTPhotoChallenge or #OTMonth19 when you share on social media. Be creative and have fun with it. Let's Promote Occupational Therapy and have fun!

Week 1: Handwriting Activities = Win a $50 Amazon Gift Card!

Week 2: Fine Motor Activities = Win a Laminator!


Week 3: Sensory Processing Activities = Win a Tools to Grow Membership!


Week 4: Self-Care Interventions = Win Reflex Integration Poster!


Week 5: Visual Perceptual Activities = Win a $50 Amazon Gift Card!


Be sure to follow us to see our Photo Callenge #CaptureOT

Instagram: https://www.instagram.com/toolstogrow/

Twitter: https://twitter.com/toolstogrowot

Facebook: https://www.facebook.com/toolstogrowot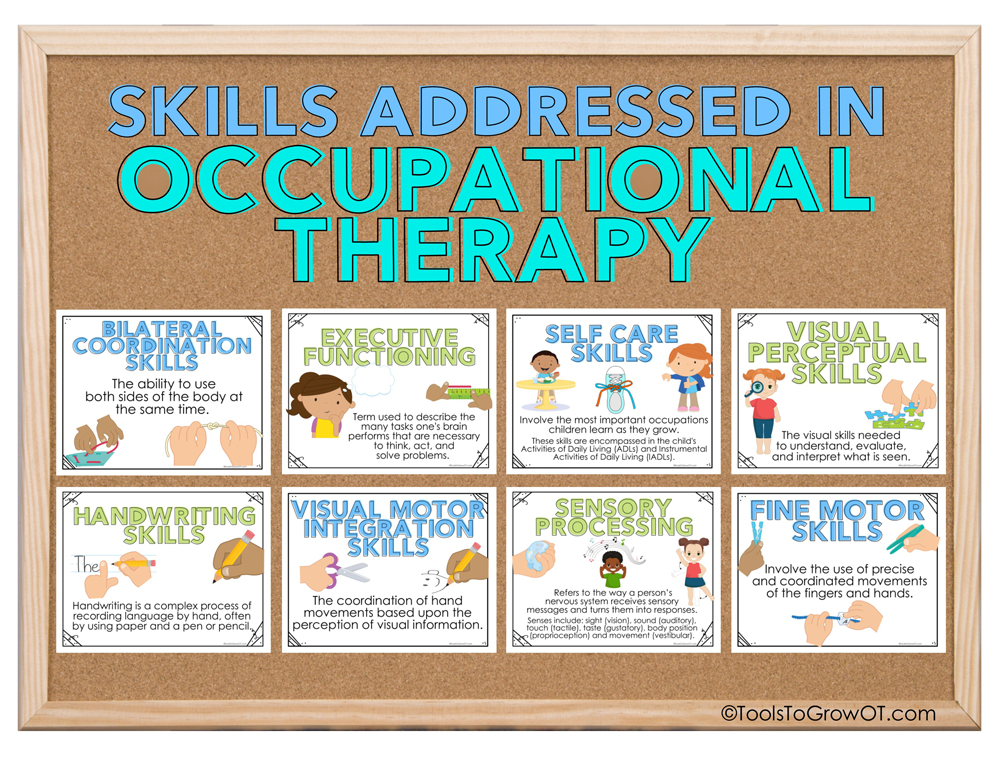 2. Create an OT Month Bulletin Board
Decorate your Occupational Therapy room bulletin board or hallway with this easy bulletin board kit.
Kit includes:
Title (colored letters & outlined letters)
8 Colored Visual Posters
Find this NEW Bulletin Board Kit here!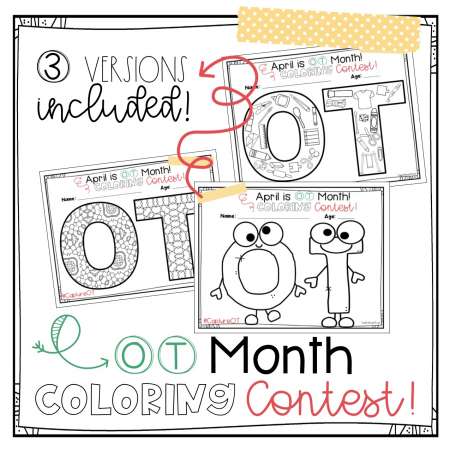 3. Have an OT Month Coloring and/or Printing Contest!
Run your own OT Month Coloring and/or Printing Contest!
Use #CaptureOT and tag @toolstogrow on social media! hree versions included!
You can find these printable coloring and printing contests here!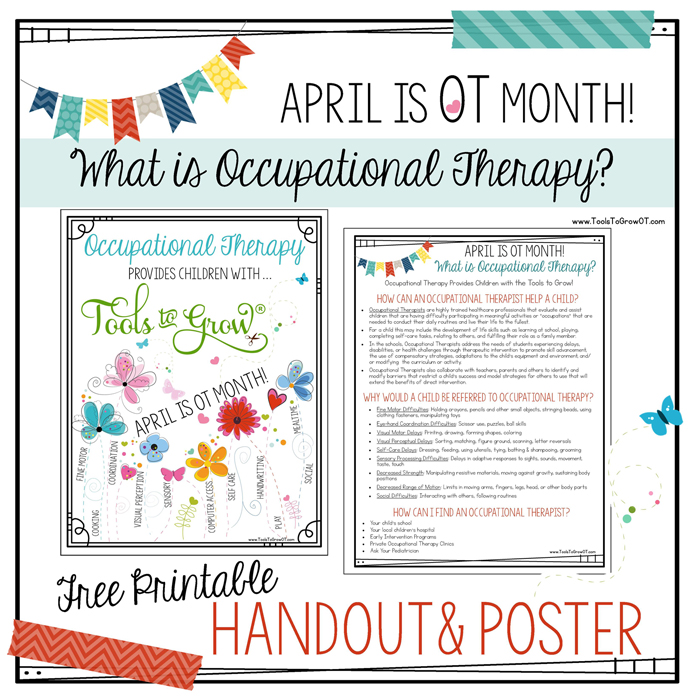 4. Educate Others! What is Occupational Therapy? Handout & Poster
Use this FREE Poster and Informational Flyer as a great way to promote OT Month and educate others.
Give this to colleagues, staff, educators, caregivers/parents, and the general public to promote awareness of Occupational Therapy. The poster illustrates some of the many "tools" Occupational Therapy provides children to help them grow! The informational handout explains "what" Occupational Therapy is, and "why" and "how" it can help children.
Download this FREE Handout here!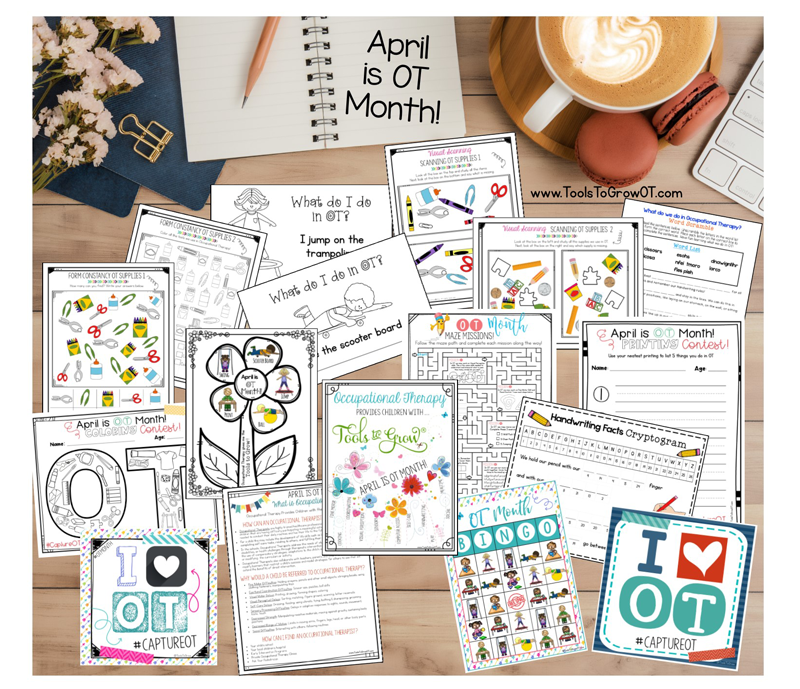 5. OT Month Resources & Printable Activities
Staying true to our mission to provide our members with valuable tools to help with the most important job there is … helping children grow; we are pleased to offer OT Month resources! You can find them all here!
OT Month Resources and activities that students/patients can complete throughout OT Month include the following:
I Love OT Poster
What is Occupational Therapy? FREE Handout and Poster
OT Month Craftivity - FREE Printable!
What Do I Do in Occupational Therapy? Coloring & Printing Book
Cryptograms: Printing
Cryptograms: Tying
Visual Scanning: OT Supplies
Form Constancy: OT Supplies
Word Scramble
OT Month Maze Missions
OT Month Flap Sheets: Fun Interactive Trivia
OT Month BINGO
OT Month Maze Missions
Typing Practice – OT Month
Find all these activities and printable resources here!
2019 OT Month PROMO Code Sale!
We are excited to share our OT Month Promo code savings! Become a Full Premium Member from April 1, 2019 through April 8, 2019 for $5.00USD off! Don't miss out! Become a Full Premium Member today!
Important Tip for Current Members Wanting to Renew & Use Promo Code
Are you currently a member and wish to renew? Email us to take advantage of this PROMO code sale!You can renew early and utilize the code for savings!
Email us to find out more information here!

We are so thankful to be a part of the Occupational Therapy profession. A career that allows us to impact the lives of many, and to be creative and client-centered on a daily basis. Occupational Therapy is a profession that is gratifying, challenging, and filled with countless opportunities to make a difference in the lives of our clients and families. How thankful we are to be a part of this amazing profession!
Wishing everyone a wonderful OT Month! Let's Celebrate OT Month and #CaptureOT!
Patti & Shelley

Related Topics: OT Month