Engaging Children on the Spectrum Using Visual Instructions
01.05.2020
So as to educate others with tips to engage children with autism using visual instructions, Tools to Grow is honored to have Meg Proctor as our guest blogger. Meg Proctor is an autism specialist, occupational therapist, and the founder of Learn Play Thrive. Please view Ms. Proctor's entire biography at the conclusion of the blog.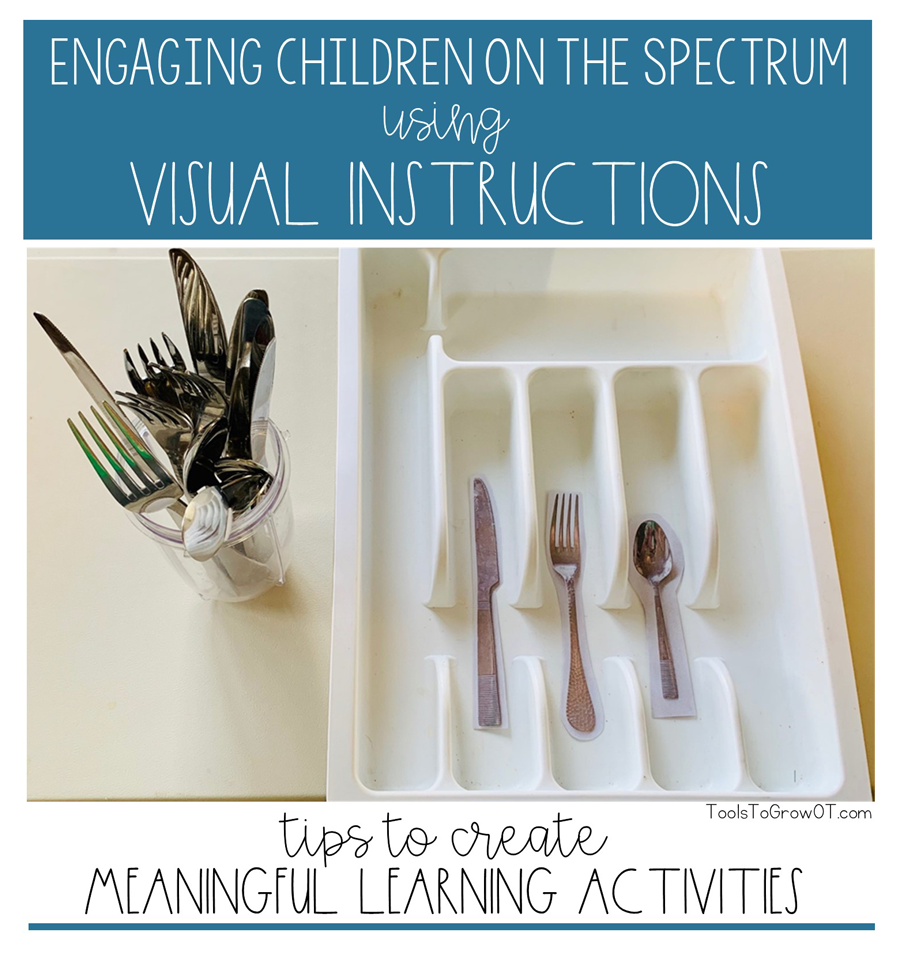 Nearly all OTs love the feeling of successfully teaching our clients new skills. When our teaching style lines up just right with how our client thinks, it is so much fun to watch the learning happen with ease. But when there's a mis-match, we can feel really stuck.
Children on the autism spectrum have a different learning profile than neurotypical children. Because of this, when teaching these clients, it's easy to feel like we are missing the mark.
I've spent so many sessions with kids who aren't learning from my activities because they are distracted by the materials, shuffling pieces, looking at the details, crumpling the paper. I've sat feeling stumped when I've tried to teach a child a new skill and they simply didn't watch or imitate me. And I've made countless activities with clip-art visuals only to have the child throw, tear, or ignore them all together.
The good news is, it's totally possible to create learning activities that are meaningful to our clients with autism. One essential component is knowing how to embed visual instructions into our learning activities in a way that will be meaningful to the individual learner.
USING VISUAL INSTRUCTIONS
If you've ever had a client who didn't imitate, you probably quickly figured out that you needed to be able to show the instructions in a different way. Using visual instructions in your learning activities can be a great way to do this. However, there is more that goes into making meaningful visual instructions than simply sticking pictures onto the page.
Many of us learned that children with autism are "visual learners." I, too, heard this in graduate school, and proceeded to stick clip art onto everything I made. I was surprised when it did not help most of my young clients in any way.
For most children with autism, it's true that receptive language, or making sense of what they hear, is a relative weakness. On the flip side, visual learning, or making sense of what they see, is a relative strength. But each child has a different level of symbolic thinking, and while some kids have off-the-charts visual learning skills, not all autistic kids have very strong visual learning skills at all.
Just because a child is on the autism spectrum, it does not mean they can make sense of symbolic pictures like clipart and Boardmaker images, or even that they understand pictures at all. We need to know how to use visual instructions at a level that our individual client can understand.
TYPES OF VISUAL INSTRUCTIONS
(1) Material Instructions:
For your youngest and most concrete thinkers, it's best to create learning activities in which the materials themselves show the instructions. When a child looks at the learning activity, the instructions will be immediately obvious to them because of how the materials are arranged. This type of instruction works well because it does not require a child to use any symbolic thinking.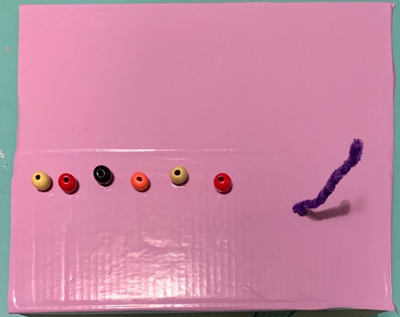 Here is an example of a stringing beads activity where the materials themselves show the instructions.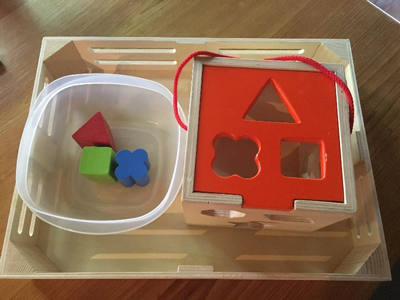 Similarly, with this shape sorter, it would be apparent to most learners that the shapes are to go into the holes. The holes could be color coded to match the color of the shapes to provide even clearer visual instructions. Beyond this, no additional visual instructions would be needed (or even helpful) to help show the activity.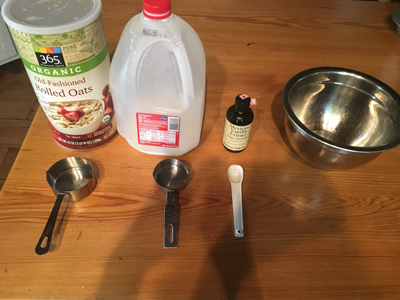 In this activity, a child learns to make oatmeal. Here the materials themselves show him how to measure and what to include, rather than anything representing the correct measuring cups, spoons, and ingredients.
(2) Object Instructions:
Another way to reach young or concrete learners is by using object-level instructions. This means that we use the samples of objects, rather than photographs or symbolic pictures, to show the child what to do.
Here is an example of a sorting activity with object-level instructions. Here the therapist has mounted an actual example of the items to be sorted rather than a photographic representation.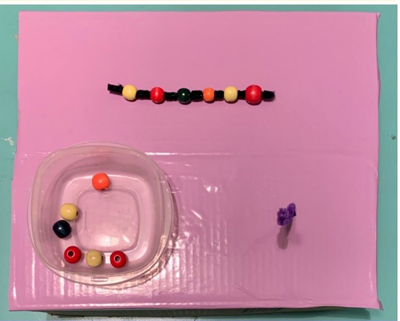 Here is the stringing beads activity with object level instructions. The therapist has provided a model of what the student is to make. This would help a student who was learning to follow a visual model but did not understand pictures. It would also help a child who needs to see what is expected of them in order to initiate the activity and move through the steps.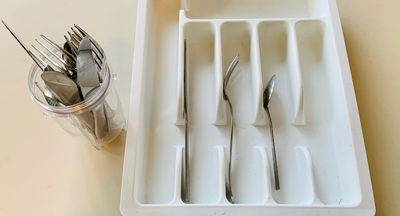 This is an example of object-level instructions for a child learning to sort and put away silverware. Note that the silverware is mounted on the sides of the compartments so that the child could still find the instructions even if they made a mistake when sorting.
(3) Picture Instructions:
For kids who do understand pictures, consider whether they would benefit more from photographs or from symbolic pictures.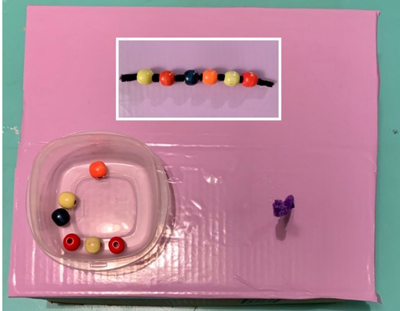 Here is the same stringing beads task with photograph-level instructions.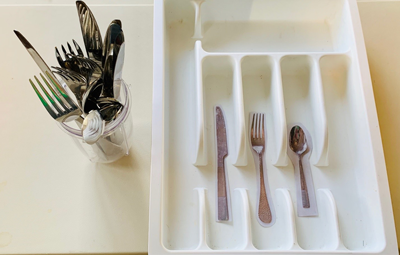 Here is the silverware activity for a child who understands photographs.
This is a tabletop activity for a child learning to sort recycling. This child may be an emerging reader, but still benefit from pictures to reduce errors and frustration in reading the instructions.
(4) Written Instructions:
And finally, for children who are strong readers, it can be very helpful to embed written instructions into their learning activities.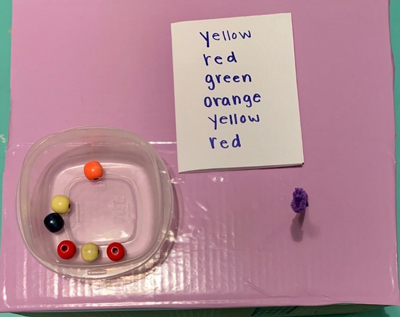 Here is the same stringing beads activity using a written list.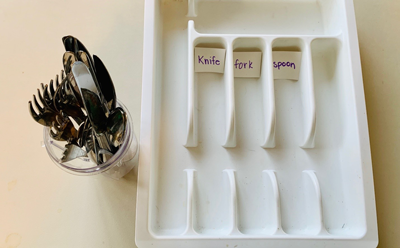 And here is the sorting silverware activity for a strong reader.
Understanding what make sense to our neurodiverse clients can lead to less stress and more learning in our therapy sessions. Figuring out what type of instructions make sense to the child and embedding them into the learning activity is one huge step towards therapy success. It's not important to make your learning activities beautiful and Pinterest-worthy, but making them make sense to your learners is invaluable.

Meg Proctor is an autism specialist, occupational therapist, and the founder of Learn Play Thrive. She teachers therapists how to use autism learning styles to inform their interventions in her flagship course, The Learn Play Thrive Approach to Autism.
Tools to Grow readers get $35 off the course when they register in the month of January and use the coupon code TOOL35.
Head to www.learnplaythrive.com for details on an incredible FREE New Year's summit and the upcoming live Behavior Problem Solving for Autism training.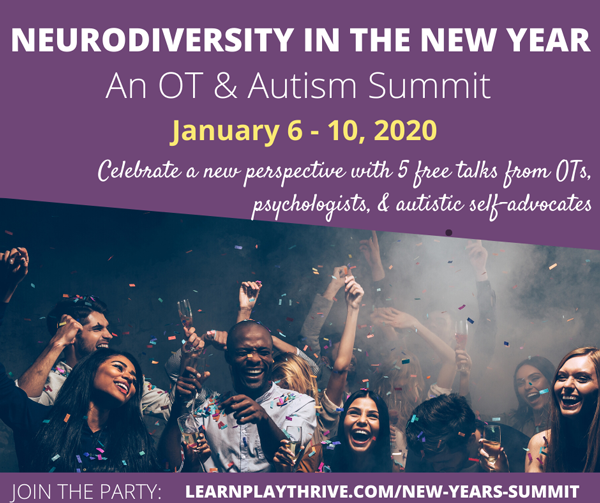 Related Topics: Sensory Processing/Self-Regulation