Winter Olympic Games: Resources for Pediatric Therapists
02.06.2022
The 2022 Winter Olympic Games are here and we have the perfect themed activities and games kids of all ages will love to play! Tools to Grow is pleased to share our Winter Olympic themed activities for use in Occupational Therapy, Physical Therapy, and Speech Therapy!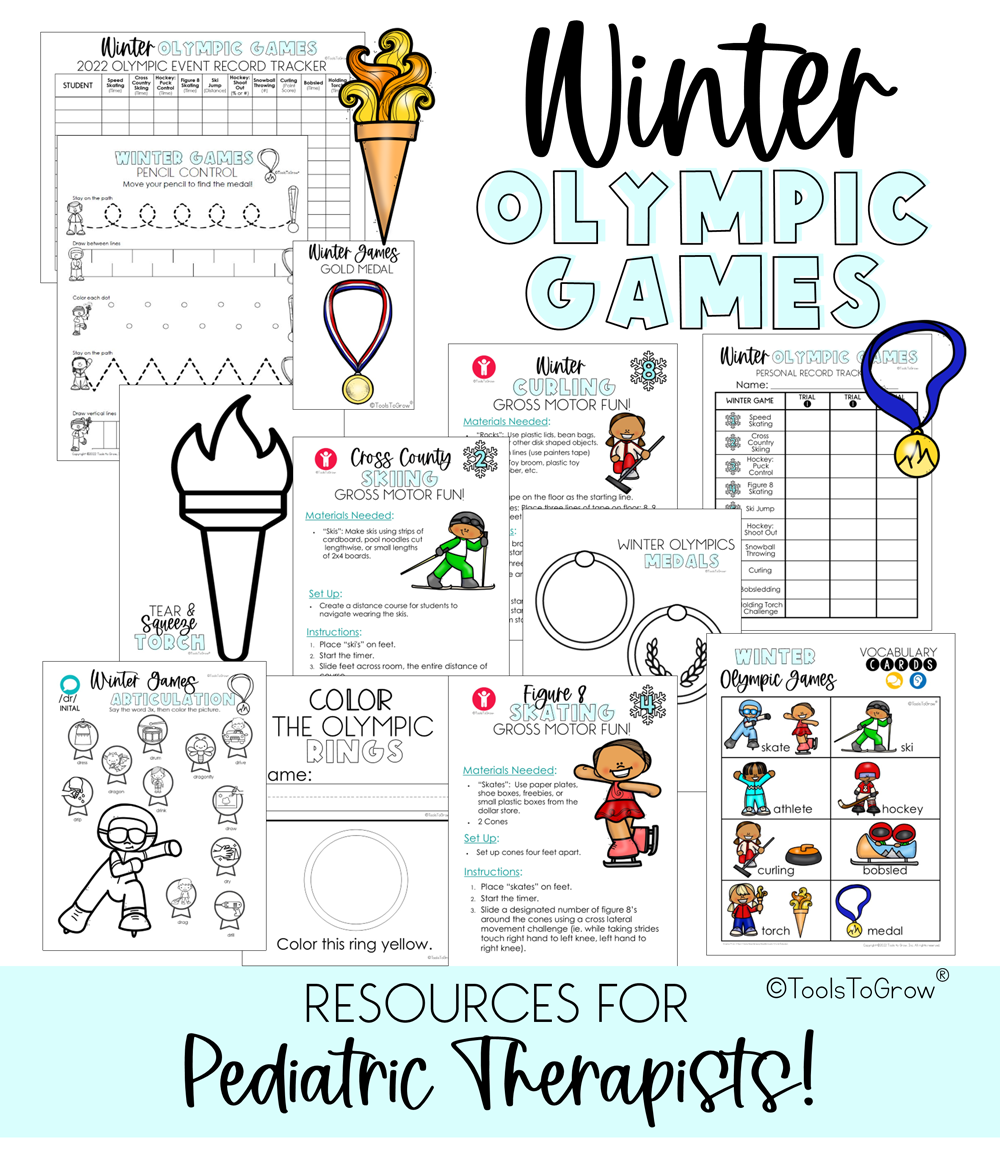 Color the Rings! Winter Games Book: Color the rings to complete this Winter Games book.
Fine Motor - Tear & Squeeze Winter Games Torch: Color the bottom of the torch. Tear small squares of tissue paper for the flame (approximately 1/2″ by 1/2″). Squeeze and crinkle the small squares of tissue paper. Glue tissue paper on to the top portion of the torch.
Winter Games - Pencil Control: Move your pencil to find the medal!
Winter Olympic Games: Gross Motor Challenges: These gross motor challenges will help a child improve their gross motor skills by performing a variety of movements. Includes 10 Winter Olympic Themed Events and Scoring Trackers (3 Versions). Each challenge includes with detailed instructions which include list of materials needed, set up, game instructions, and printable medals!
Gross Motor Challenges Include:
1. Speed Skating
2. Cross Country Skiing
3. Hockey: Puck Control
4. Figure 8 Skating
5. Ski Jump
6. Hockey: Shoot Out
7. Snowball Throwing
8. Bobsledding
9. Holding Torch Challenge
10. Curling
Winter Olympics - Articulation: Say the word 3x, then color the picture. Includes initial blends /kw, /dr/, /fl/, and /gr/.
Winter Olympics -Vocabulary Cards: These vocabulary cards are learning aids that have a printed word with an accompanying illustration. These cards will help children develop the oral vocabulary related to the Winter Olympics. Color & Black/White (Ink Friendly) Versions included.
Winter Olympic Game Medals - Color, Cut & Decorate: Cut, Color, & Decorate these Winter Olympic Medals. The perfect Fine Motor activity to accompany the Gross Motor Olympic Games! Free Printable!
We hope the children in your live enjoy these Winter Olympic Gross Motor Games!
Find these Winter Olympic Resources here!
Find all Winter Resources and Activities here!
Related Topics: Winter , Winter Olympics