Printing Power Squad! Tools to Address Handwriting Rules
08.03.2022
Are you looking for a fun, simple, and motivating intervention tool to use addressing handwriting? If so, we have a practical and effective tool for you!
This blog will explore Tools to Grow, Inc.'s "Printing Power Squad" Handwriting Program, a convenient and appealing way to promote handwriting rules and printing practice! Kids will want to be a Printing Superhero and follow all the Handwriting Rules!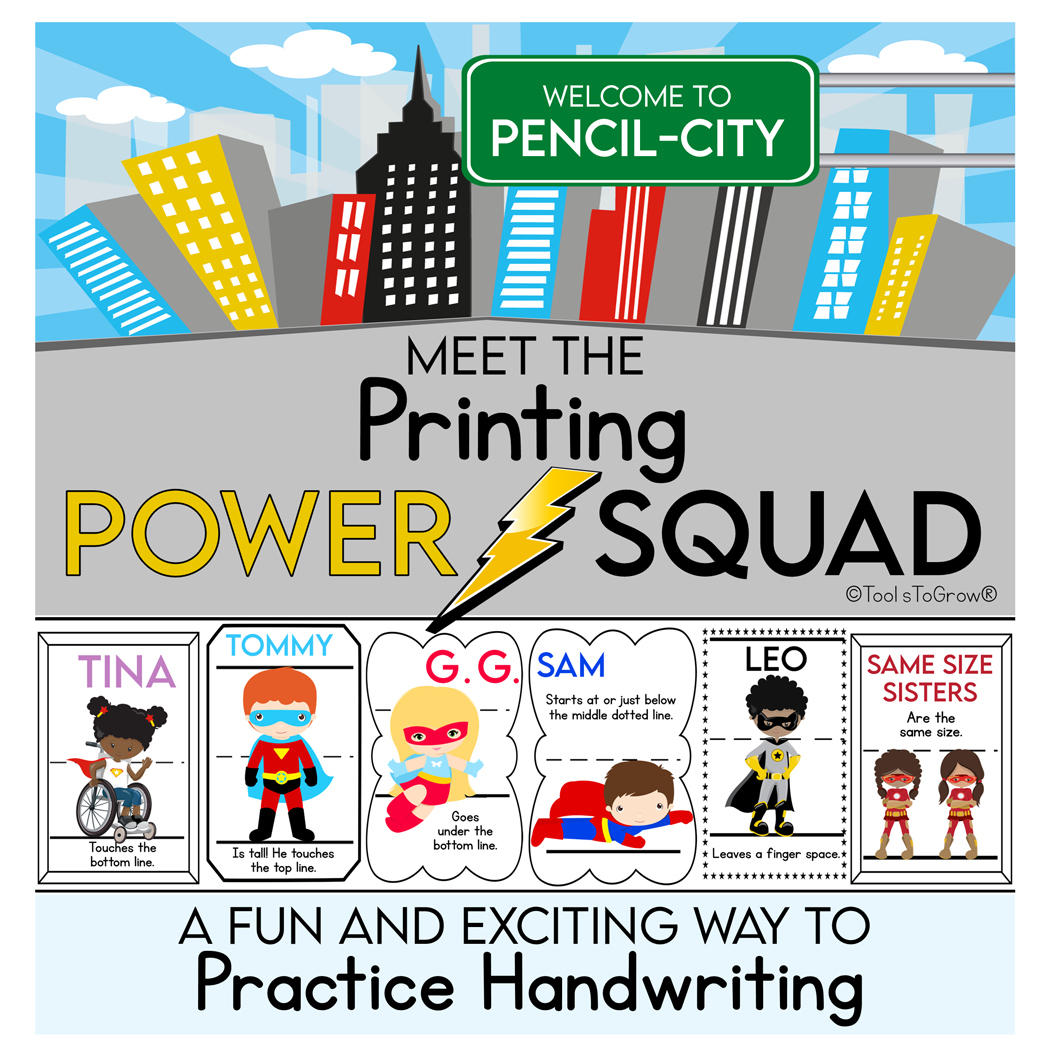 Much of a student's school day is consumed by handwriting.
There are many skills a child utilizes during handwriting. This includes fine motor skills, visual perceptual skills, visual memory skills, hand-eye coordination, motor planning, organizational skills, and focus/attention.
There are many features of handwriting that impact legibility. These may include certain "rules of handwriting" that dictate letter formation, letter size, letter orientation, spacing, and line adherence.
Line adherence refers to the placement of letters, words, and numbers within the writing lines of various styles of paper (triple, double, and single lines). This includes proper placement of certain letters on the bottom or baseline (ex: a, c, e, i, m, n, o, r, s, u, v, w, x, z). Ensuring that "Tall" letters (ex: b, d, f, h, l, t) touch the top line, and that "Go Under" letters (ex: g, j, p, q, y) go under the bottom line.
Orientation refers to proper formation of letters without reversals.
Size refers to forming letters that are a size appropriate to the child's age or grade. Letters should also be of a consistent size for optimal legibility.
Formation refers to correctly starting all lower case letters and numbers at the top (with the exception of d and e). All upper case/capital letters should also start at the top. It also refers to consistently forming letters with the proper sequence and direction.
Spacing refers to printing letters in close proximity without excessive gaps, letters touching, or letters overlapping. There should also be appropriate space between words in a sentence.
Welcome to Pencil-City!!!
Meet the Printing Power Squad!
Tools to Grow's "Printing Power Squad" Handwriting Program includes the following tools:
(1) Let's Meet the "Printing Power Squad!"– Included is a set of posters with each Printing Power Squad Superhero displayed. There are 6 Printing Power Squad Superheroes in total. Each is unique and addresses one handwriting rule.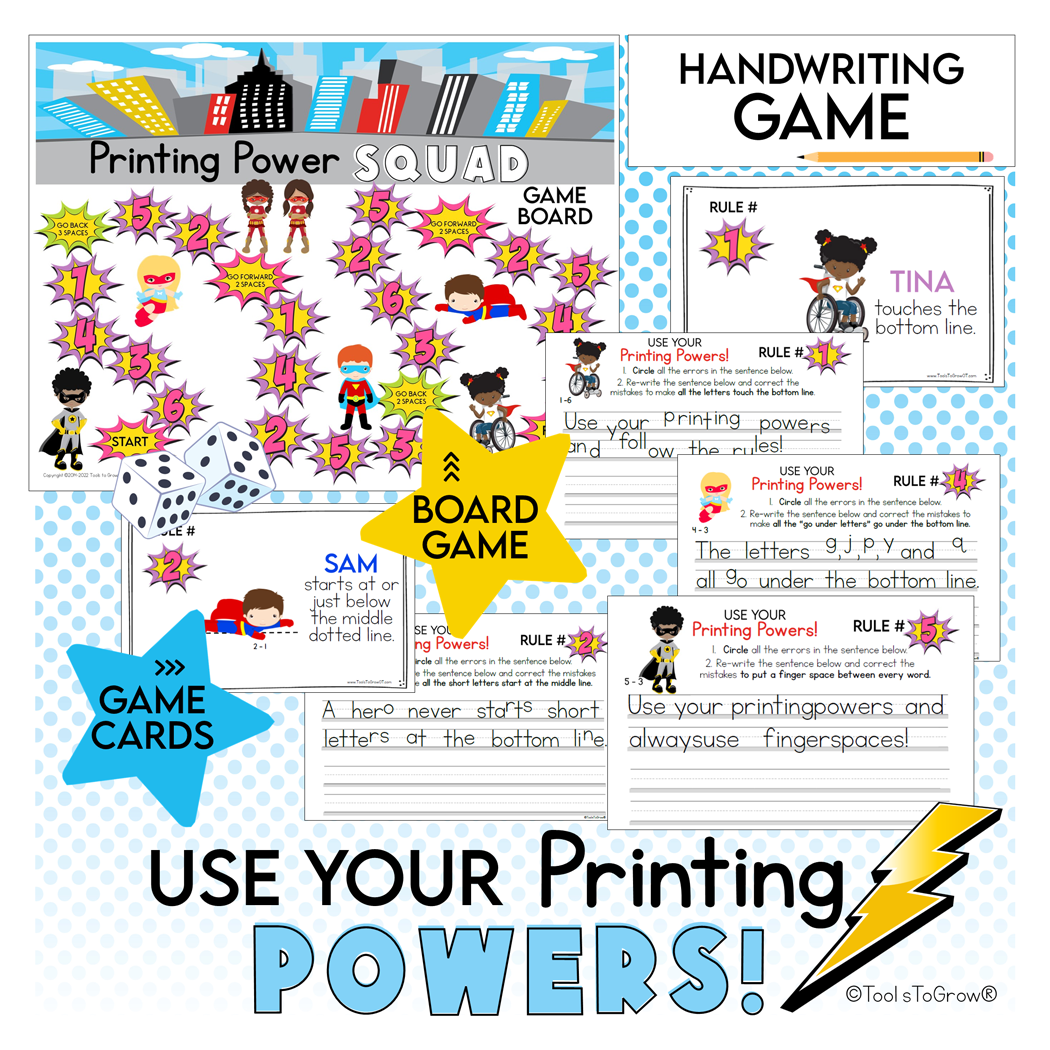 (2) "Printing Power Squad" Board Game, Game Rules, & Game Cards - The Printing Power Squad Board Game is a fun and motivating tool to use in individual or group sessions.
There are a total of 6 worksheets for each handwriting rule. Simply print out the Board Game, Game Rules, and Worksheets. Print the worksheets double sided, so that the handwriting rule number is on one side and the worksheet on the other side.
To Play the Handwriting Game:
1. Place worksheets sorted in 6 piles, with the handwriting rule numbers facing up.
2. Prior to the start of the game, use the handwriting posters to teach the children each handwriting rule.
3. Using a dice, each student takes a turn rolling.
4. Using the number that is rolled (1-6), the student moves forward that number of spaces on the board.
5. The child uses the numbered hand writing rule worksheet that he/she landed on.
6. To complete the worksheet, the student must re-write the simple sentence using that Handwriting Rule to correct all the handwriting errors/mistakes.
7. When the student correctly completes the worksheet, his/her turn is over and the next student completes steps 3-6.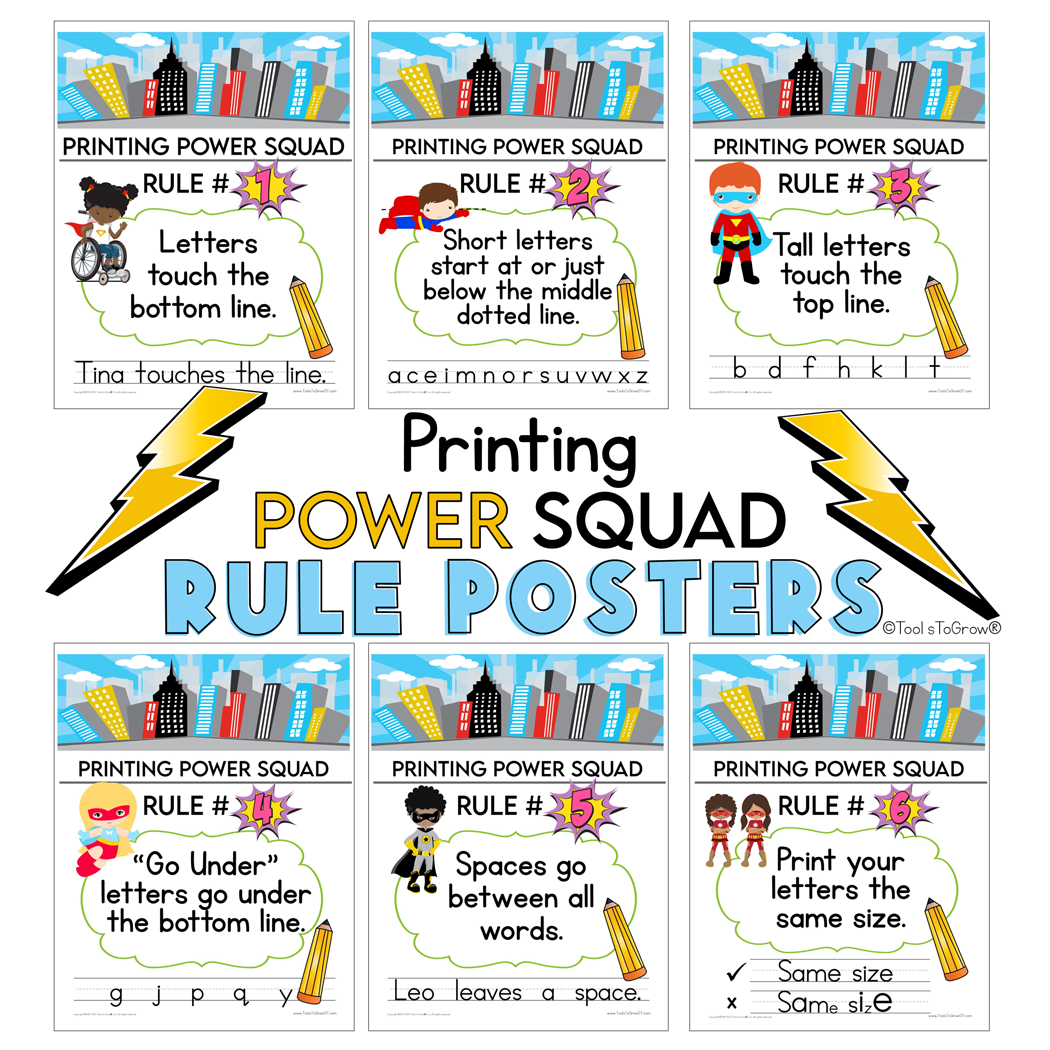 (3) "Printing Power Squad" Rule Posters – Includes 6 high quality posters. Each poster shows a Printing Superhero, a written description of the Handwriting Rule, and an example.
These posters are a great visual reminder of Handwriting Rules to use in your clinic, classroom, work space, or home environment.
(4) "Printing Power Squad" Awards: Editable! - After completing the Printing Power Squad board game, and/or after the child has mastered each handwriting rule, the student receives their award! Included are separate awards for each rule and an overall printing superhero award. This is an editable PDF - open and type!
(5) "Printing Power Squad" Pencil Toppers - A fun fine motor activity that not only gives children the chance to manipulate and use classroom materials (scissors, tape), the child will also have a visual of each of the Printing Power Squad Superheroes. What a great way to remind children to follow rules that encourage improved performance in the area of handwriting!
(6) Printing Superhero Printable Masks - Children will really enjoy the opportunity to create a Printing Power Squad Superhero mask of their own! While cutting, coloring and decorating, the child will be able to identify with each Printing Superhero and their corresponding handwriting rule!
(7) "Printing Power Squad" Tokens - Once student has mastered a Printing Power Squad Handwriting Rule, they achieve a Printing Power Token. Cut and paste token and place in the Power Token Board. Collect all 6 tokens!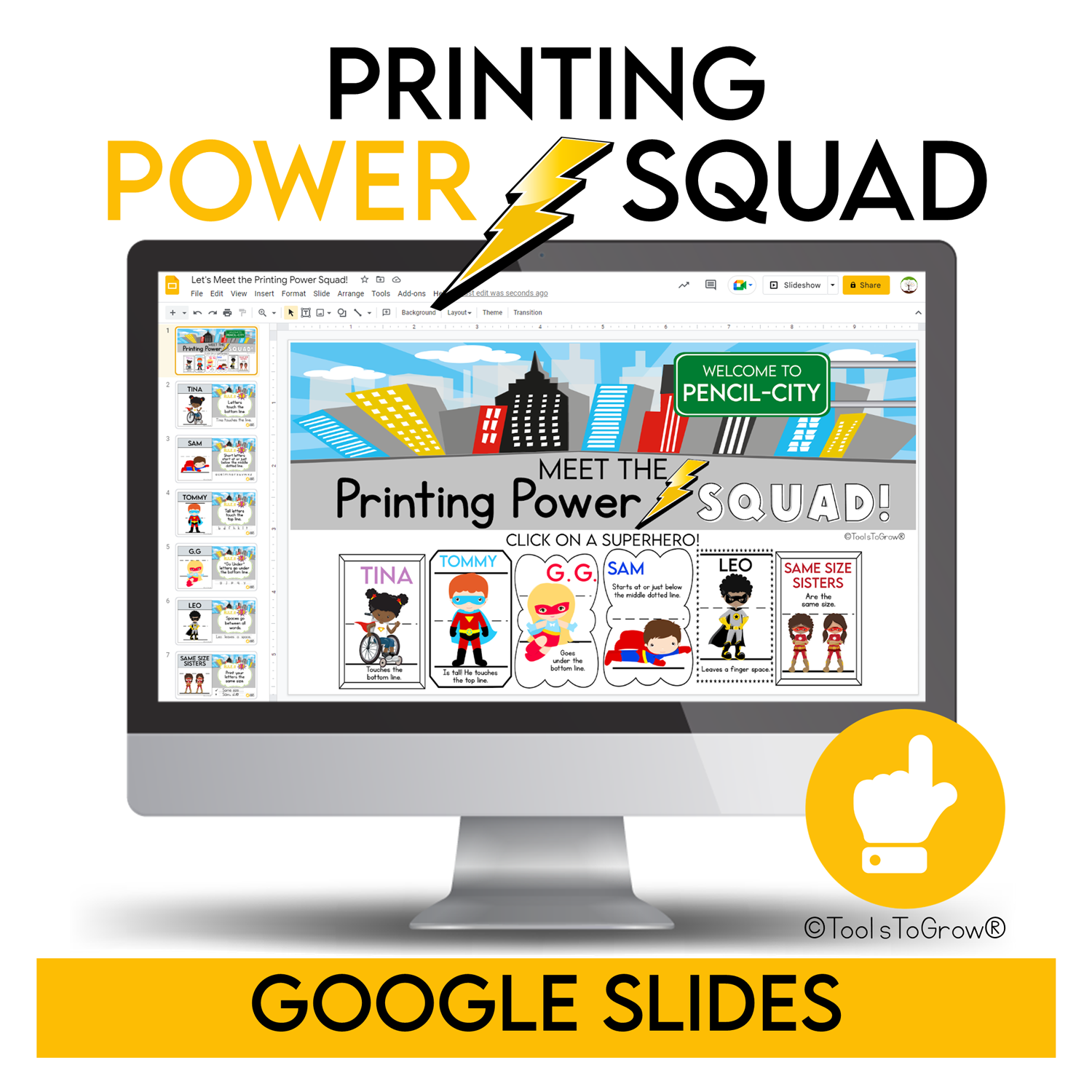 (8) Digital Google Slide: Meet the "Printing Power Squad!" - Open PDF and click links to make a copy of the Google Slides. Click a Hero on the "Main Menu" to learn that Handwriting Rule!
Tools to Grow, Inc.'s "Printing Power Squad" Handwriting Program is a convenient and appealing way to promote handwriting rules and printing practice in both the school and home/community settings.
These invaluable handwriting resources will provide you with the tools necessary to help with the most important job there is … helping children grow!
Our "Printing Power Squad" Handwriting Program can be found here!

Not a member?
Find the "Printing Power Squad" Handwriting Program in our Shop!
You can find The Printing Power Handwriting Program ON SALE in our Shop until August 31, 2022!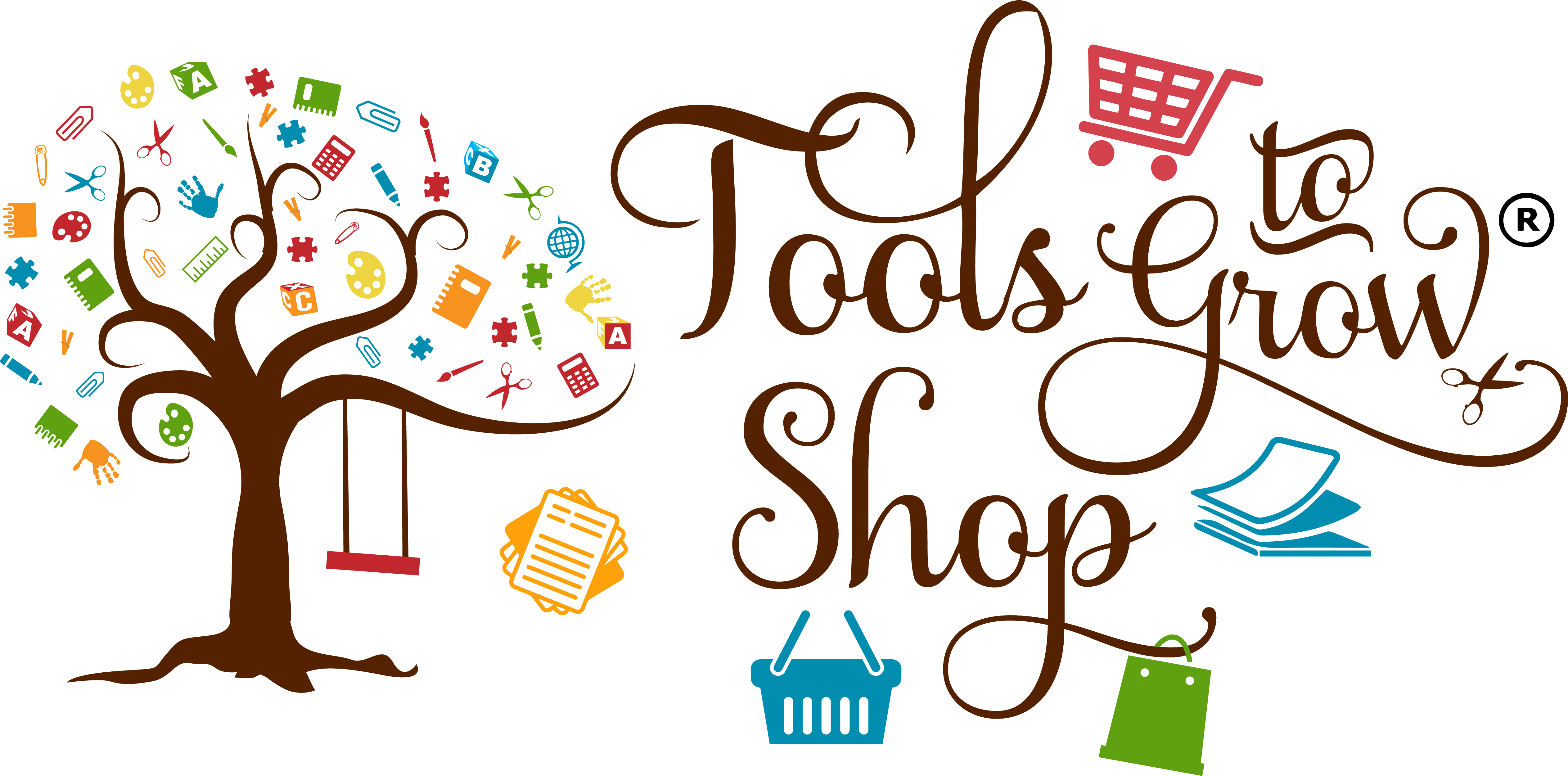 Related Topics: Handwriting , School Based OT, Tools to Grow at Home , Tools to Grow at School