20 Autumn Themed Ideas for Pediatric Therapists & Parents
10.02.2022
Fall is here! For many of you that means chilly weather, colorful falling leaves, and apples to pick! Tools to Grow is excited to highlight 20 fun-filled autumn themed resources and activities.
Some of these activities are meant for the outdoors. For those of you without autumn weather, many of these activities can be completed indoors.
Families and therapists can enjoy these activities with the special children in their lives!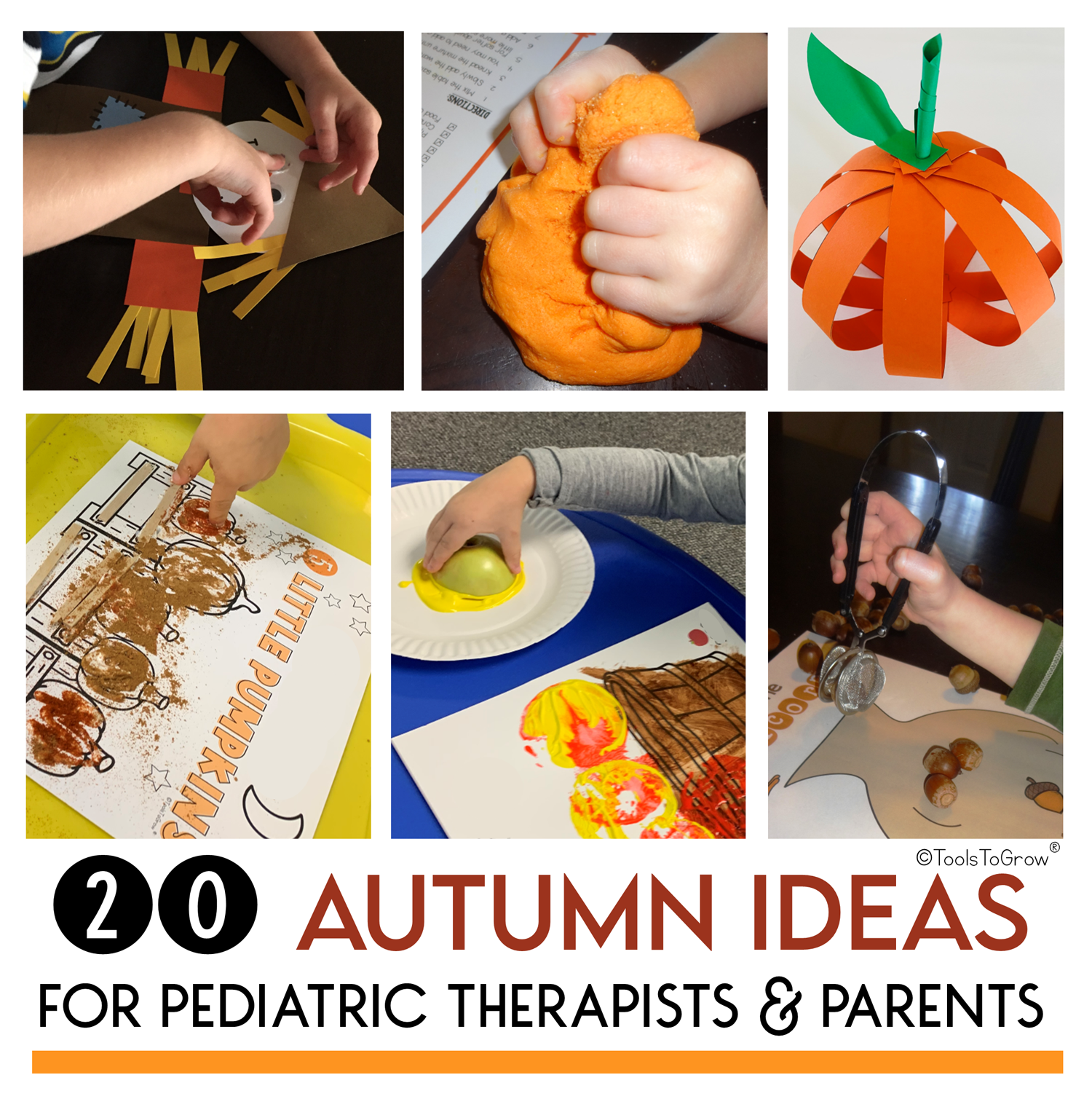 Acorn Collecting: You will need a spoon and small bucket or bowl. Look around your yard, neighborhood, or a nearby park for acorns. Once found, bend down and then place the acorn on a spoon. See how far you can walk with the acorn before dropping it into the bucket/bowl that is placed several feet away. Once done, be sure to put the acorns back on the ground for the hungry squirrels!
Scarecrow Craft: While making this craft your child will have an opportunity to practice using scissors, markers, and glue. They will also learn about shapes and following directions. Find this FREE resource here!
Leaf Rubbings: You will need is a few newly picked leaves, white paper, crayons (with wrappers removed) and tape. Lay the leaves on a flat surface with the paper on top. Tape the corners of the paper to flat surface like a table. Holding the crayons lengthwise, rub the top of the paper to make the leaf images appear. Use many different colored crayons for a beautiful masterpiece!
Pumpkin Dough Craft: Get your child's fingers working with this fun recipe to make pumpkin dough. Add a little cinnamon, maple, hazelnut, clove, or nutmeg for a wonderful olfactory experience. Next, mold the dough into small pumpkins or fall leaves…use your imagination! Find this resource here!
Take a Hike Leaf Color Search: Get out outside and have your child search for leaves of many colors. Red, yellow, green, brown, and orange may not be that tricky. But how about purple, black, blue, pink, and white? You may have to include other objects like twigs, stones, and rocks.
Make a Fall Magic Potion: You will need a medium to large sized jar for each child. Use ingredients that can be found outdoors. For example, they can add grass, acorns, small pinecones, twigs, stems, small stones, and leaves. Next, add approximately one cup of vinegar, a squirt of dish soap, and a drop of orange food coloring. Swirl around. Finally, top with a spoon of baking soda. This will make your potion bubble. So much fun!
Take a Leaf Plunge: Help your child rake a big pile of leaves. Encourage your child to run, jump, roll, and bury themselves in the crunchy leaves. Enjoy!
Make Applesauce: Make some yummy homemade applesauce. Children can develop their motor and sensory skills by peeling, cutting, and mashing apples. They will develop their vocabulary and direction following skills by using a recipe. Find this visual recipe resource here!
Apple Stamping: Cut an apple in half and let your child dip it in paint and stamp it on paper. For a less messy and easier gripping method, push a fork into the back of the apple. Find free printable here!
Leaf Toast Snack: Another fall themed snack that is fun to make and tastes good too! Find this recipe resource here!
Leaf Crunch: You will need a large collection of very dry leaves for this activity. Tell your child to notice how the leaves feel while they squeeze, crunch, and crumple the leaves using their hands. Tell your child to listen to the sound of the crunch. Also, they should notice how the leaves smell like autumn!
Leaf Holes: Use a hole punch to make small circles in leaves. For this activity it is better to use moister, fresher leaves (as opposed to dry leaves). This is great for making strong hands!
Make a Bird Feeder: This will be a messy job! You will need a large pinecone, peanut butter, birdseed, and yarn for this. Using a safety/plastic knife, have your child spread peanut butter all over the pinecone. Next, roll the pinecone in dry bird seed. Next, firmly tie a strong ribbon or yarn onto the pinecone and hang it from a tree or bush. Finally, cross your fingers that a bird comes to enjoy a meal!
Touch Football: Get together with friends and family for some tossing, throwing, hiking, catching, and running!
Taste Orange Foods: Have a picky eater? Why not make an orange autumn themed meal or snack? You may wish to taste test the following orange food: pumpkin, apricots, cantaloupe, sweet potatoes, mangoes, oranges, and carrots. Enjoy thinking of other orange food!
Candy Corn Drop: You will need a bag of candy corn and a jar. The child can either kneel or stand on the floor. The jar is placed on the floor near their feet. For older children try using a jar or bottle with a smaller opening. Keep track of how many candy corn are dropped into the opening. Find more candy corn activities here!!
Make a Pumpkin Seed Snack: Carve a pumpkin and then enjoy another fun experience and yummy snack! Find this recipe resource here!
Flick Football Game: If a group of friends or family are not available, try this fun fine motor game of Flick Football. It also works on a rainy day or when space is at a premium! Find this resource here!
Spice Painting: This is a great sensory activity! You will need washable white paint, small bowls, paint brush, paper, and preferred "fall" spices. Each spice will reveal a different color and scent . Suggestions for red include chili powder and paprika. For light brown try cinnamon and nutmeg. For dark brown try cocoa. For yellow try curry. Use turmeric for orange. Place the paint into a small bowl, then slowly add and stir and spice until you get the desired color. Enjoy being artistic with your child! Find pumpkin themed sensory art craft here!
Pumpkin Craft: The perfect Fine Motor and Sequencing Craft. Includes template, detailed written instructions and visual step-by-step directions. Find printable here!
We hope these tips and tools help with the most important job there is . . . helping children grow!
>> You can find all our Fall/Autum themed resources and activities here!
> You can find October Monthly session plans here! **Please Note: October Monthly Plans will be posted on or about September 1 and removed December 1.
Related Topics: Fall/Autumn