35 Winter Ideas for Pediatric Therapists
01.21.2022
Winter is here! For many of you that means cold weather, hats, mittens, boots, snow, and ice! Tools to Grow is excited to highlight 35 fun-filled winter themed resources and activities. Some of these activities are meant for the chilly outdoors. For those of you without snowy weather, many of these winter activities can be completed indoors. Families and therapists can enjoy these activities with the special children in their lives!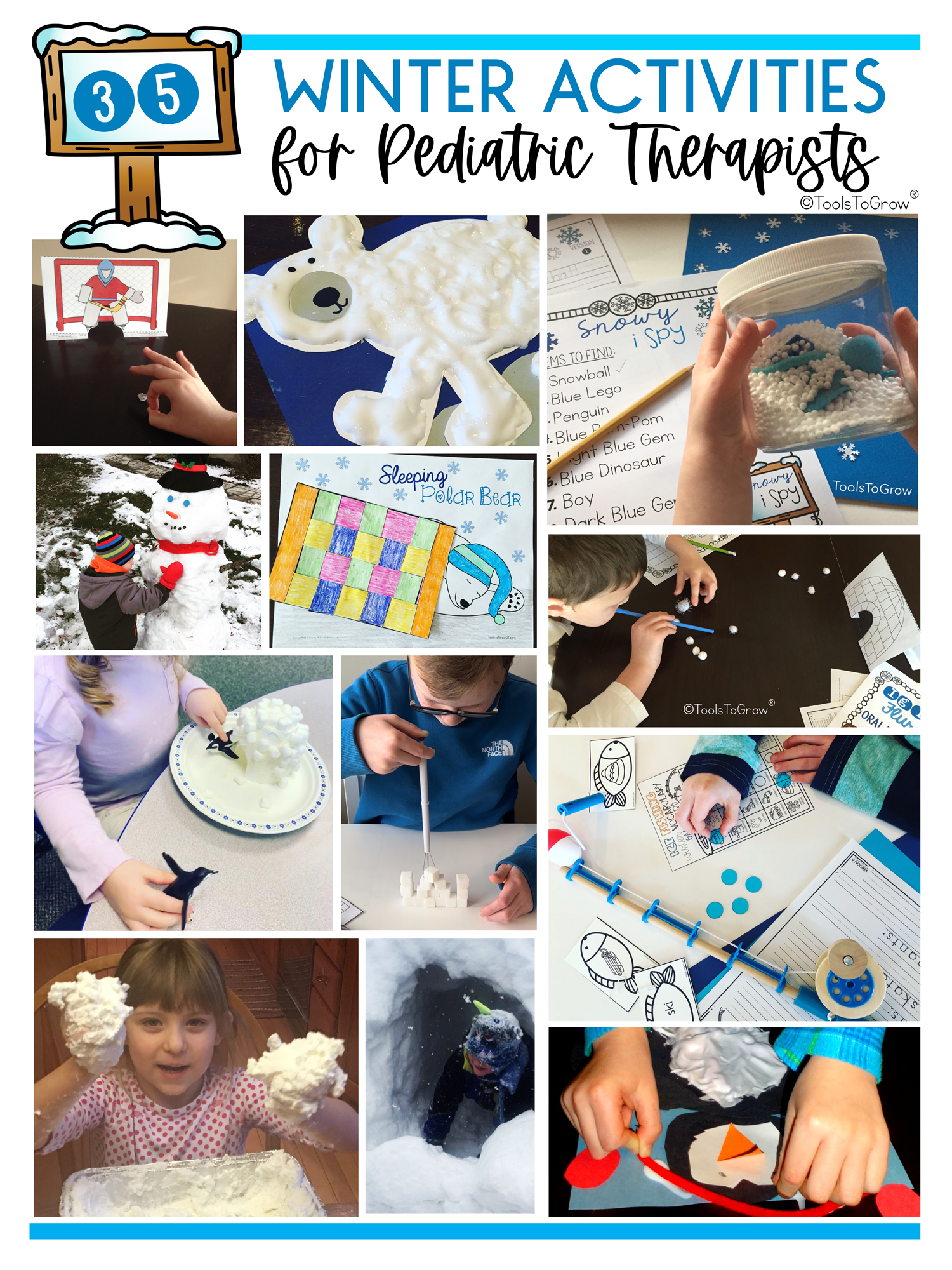 1. Snowy I Spy Jar: I Spy games are great for addressing visual perceptual figure ground skills. Figure ground is the ability to perceive the foreground from the background in a visual array. Impairments in this area of visual perception may interfere with finding specific pictures, symbols, letters, numbers or words in a book, on a board, or on other visual material. So as to strengthen these skills, create a home-made Eye Spy Jar. You can use white confetti, white rice, or faux snow as the main "ingredient". Perhaps use small objects with a winter theme for the child to spy.
Snowy I Spy Resource: Editable List & Handwriting Activity. Type directly into this Editable PDF and list the items for child to find. Depending on age, child will check off and write the items found. Find this resource here!
2. Ice Cube Jell-O Painting: Sprinkle some Jell-O powder on a large piece of paper. Provide child with an ice cube to spread the powder. As the ice cube melts, the Jell-O will become more like "paint". Children will enjoy the smell and taste…if they lick their ice cube!
3. Flick Hockey Game: This hockey themed table top/floor game is designed to promote development of turn taking, following directions, visual motor, and fine motor skills. While strengthening their fingers, children will enjoy the strategy and chance to be a hockey star! Find this resource here! Looking for more Fine Motor Games? We have lots! Click Here!
4. Igloo Flurry - Oral Motor Game: This winter themed Igloo game is designed to promote development of oral motor, turn taking, following directions, and visual motor skills. Children will enjoy the strategy and chance to have some Winter Fun! Find this Oral Motor Winter themed game here.
5. Spin and Walk like a Winter Animal: Spin and Walk like a Polar Bear, Roll like a Snowman, Run like a Moose, Jump like a Whale, Waddle like a Penguin, Slide like a Seal!
This is a Fun Winter Edition Animal Walk Motor Planning Game! This PDF packet includes instructions and Game Board. Simply print and create a spinner by using a paperclip. Flick the spinner and complete the animal walk action that you land on. Fun & exciting way to address strength, gross motor planning, and praxis skills with a Winter Twist! Print detailed "Winter Animal Walks" cards to accompany this game. Use cards when transitioning from one task to another and to and from therapy/other classrooms. Use as part of an obstacle course, game, warm-up/preparatory activity, etc. Fine this Gross Motor Winter Game here! Find more Gross Motor Games here!
6. Fluffy Polar Bear - Tactile Craft: We have a great tactile winter Polar Bear craft that children of all ages will love to make! This activity addresses a variety of skills including fine motor control, bilateral coordination, visual motor integration, visual perception, and sensory processing.
Read entire Blog Post for detailed instructions to complete Tactile Polar Bear Craft here!
7. Sleeping Polar Bear: Fine Motor Quilt: This winter themed polar bear quilt activity is designed to promote development of following directions, eye-hand coordination, fine motor, and visual motor integration skills. This 5 PAGE PDF includes everything you will need to weave a quilt for an adorable Sleeping Polar Bear! Includes detailed instructions, visual sequencing steps, quilt and weaving strip patterns, and sleeping polar bear image to color! Find this Fine Motor Activity here!
8. Stereognosis Game within a Large Mitten: Fill a large mitten with several small objects. Encourage the child to insert his/her hand into the mitten to pull out the specified object that is concealed within. Or…place one object within a soft mitten. Rather than inserting his/her hand inside the mitten, the child feels the outside of the mitten and tries to guess what may be inside. Good luck!
9. Sledding Outdoors: Ready, Set, Slide!! Get some vestibular input with natural winter fun.
10. Ice Skating Indoors: Spread a layer of shaving cream on a large mat or other surface. Use bare feet to slide back and forth. Be sure to have an adult nearby to ensure a safe experience.
11. Build a Snow Man Outdoors: Don't forget the carrot!
12. Make a Snow Fort Outdoors: Excellent for future architects! Great opportunity to develop stamina, strength, and spatial skills.
16. Snow Ball Fight Indoors: Kids of all ages (adults too) love a fun snowball fight! Instead of snow, crunch up white paper into large balls to throw at a target, into a basket, or at one another!!
17. Snowball Toss: Plastic Cup Stacking Challenge: The perfect winter snowball game for Older Children! Includes detailed Instructions, Score Card, Stacking Pattern Cards (12 Different Stacking Patterns!), and Snowball Toss Characters. Watch a video on this fun activity here!
18. Tactile Snow Bin: Use real snow as the "main ingredient" in a bin full of winter themed treasures hidden within.
19. Taste White Foods: Have a picky eater? Why not make a white winter themed "SNOWtastic Meal or Snack"? You may wish to taste test the following white food: potatoes, rice, vanilla yogurt, popcorn, vanilla ice cream, cauliflower, bread, white pasta, white cheese, and milk. Enjoy thinking of other white food! You can find our Mealtime and Feeding resources here!
20. Mitten Mix Up! Fine Motor Matching Game: Grab those clothespins! We have the perfect winter matching game! This mitten themed matching game is designed to promote the development of following directions, visual perception, dexterity, bilateral coordination, and fine motor control. This resource includes 5 sets of Mittens (a total of 40 mittens or 20 matching pairs) and detailed instructions to play the game. Find this resource here!
21. Snowball Surprise: Hide a toy inside the middle of a large snowball for a child to find. Encourage him/her to only use their fingers to pry the snowball apart. Work fast…it will get chilly!
22. Snow Spraying: Use a spray bottle filled with water and food coloring. Keep spraying to change the snow's color. This is wonderful for developing hand strength and creativity!
23. Snow Chisel: Freeze small objects within a tray of water. Once frozen, the child will use a spoon, golf tee, or craft stick to chisel the objects out. Don't give up!
24. Beat the Clock Winter Dress Up Game: Winter is the PERFECT time to address Self-Help/Life Skills (also known Activities of Daily Living (ADL) skills). This fun and exciting ADL game is great to play individually or in a group setting. It helps children improve their fine motor control and motor planning skills required for dressing. The children are not competing against one another; they are striving to beat their previous best time as recorded on their personal record sheets. Children will practice dressing in Winter Clothing and have fun at the same time! Find this resource here!
25. If I Were a Penguin – Craft and Handwriting Activity: This winter activity is sure to be SLIDES of fun!! Read detailed blog for instructions to complete here!
26. Polar Bear's Adventure: Follow the directions to find out where Polar Bear goes and who he meets on his way to bed. Use the compass as a guide for the directions. Use the legend to answer the questions. Resource includes two grid maps; each with two different levels of difficulty. Addresses a child's ability to: apply spatial orientation and directionality concepts, develop map skills and understanding of compass terms, apply number concepts/count, follow written directions, visually scan and localize in near space, and execute sequenced actions. You can find this winter themed map resource here!
27. Winter Dress Up - Paper Doll Color & Cut: These Paper Dolls are a great activity for allowing children to visualize appropriate clothing for the winter. This resource includes written directions, visual instructions/steps to complete task, 2 Pages of winter clothing images, body image, and blank assembly page. Targets a variety of fine motor, sequencing, handwriting, and visual motor skills! Boy and Girl versions can be found here!
28. Winter Riddles - TYPING!! What is a Snowman's favorite lunch?? To find the answer, follow the directions and TYPE directly into the resource as indicated. This is the perfect solution to address typing & keyboarding skills, scanning, and visual memory skills. Find it here!
29. Snowball Sensory Bin: Use white cotton balls as the "main ingredient" in a bin full of winter themed treasures. Perfect for children that need help with tactile discrimination.
30. Mitten Lacing: Print resource template on card stock or heavy paper. Color and cut out the mittens. Using a hole punch, punch out all grey circles. Lace using yarn. Find the resource here!
31. Create a Snow Fort Indoors: Use mini and regular sized marshmallows to build small structures. Great for developing fine motor control and patience.
32. Frozen Foam Dough: Combine a 12 oz. box of corn starch and a 10 oz. bottle of shaving cream. Mix gently and place in the freezer for a few hours until it sets. Children will enjoy playing with this snowy concoction!!
33. Ice Fishing: Winter Vocabulary Game: Children always enjoy the pretend game of "fishing", and during the winter months what could be more fun than Ice Fishing! This winter themed game targets Following Directions, Vocabulary & Sight Word Development, Articulation of Speech Sounds, Bilateral Coordination, Upper Extremity Control, and Handwriting. Read Blog post on this fun winter vocabulary movement game here!!
34. Winter Sugar Cube Snow Fort: Kids of all ages will love this activity! Select a card and replicate the design using sugar cubes. Use tongs or grabbers to stack the cubes. Find the resource here!
35. Winter Yoga: These Winter Yoga Cards will help children of all abilities to: Develop body awareness, Manage stress through breathing, meditation, and healthy movement, Build concentration and sustained focus, Participate in a non-competitive, supportive practice of exercise for the body & mind, Increase flexibility in joints and improve balance, and Feel energized. The resource includes 10 Winter Themed Yoga Poses and Associated Winter Picture Cards. Find the Winter Yoga Cards here!
You can find all our Winter themed resources and activities here!
You can find January Monthly session plans here! ** January Monthly Plans will be posted on or about December 1 and removed March 1
Related Topics: Winter